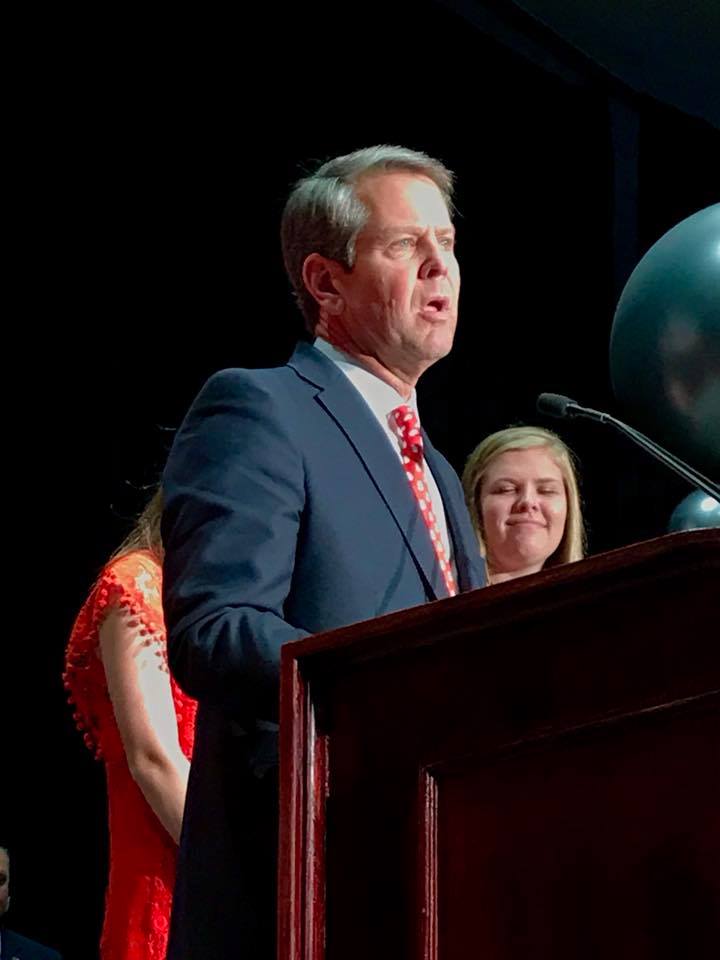 The following article is a guest op-ed from Governor Brian Kemp. Any elected official, candidate for public office, or citizen can submit an op-ed opinion piece to AllOnGeorgia. The article below has been published as it was sent to AllOnGeorgia, without editing or revision.
---
Over the last sixteen years, Georgia has experienced incredible growth and economic opportunity.
Under the leadership of Governors Sonny Perdue and Nathan Deal, we weathered the Great Recession. Wages are rising and the unemployment rate – at 3.5% – is the lowest in eighteen years. Thanks to the hard work of the legislature, Georgia is the top state for business – six years in a row.
With low taxes, business-friendly government, and access to logistics hubs like the Port of Savannah and Hartsfield-Jackson International Airport, Georgia is the epicenter of job growth, the "Hollywood of the South," and soon to be the Cyber Capitol of the World.
As a leader in criminal justice reform, we have reduced recidivism, saved millions, and strengthened communities.
Our investments in education have yielded higher graduation rates. Our commitment to early learning initiatives has ensured a brighter future for Georgia students.
It is a great time to be a Georgian, but we will not rest on our laurels or grow complacent. We have an opportunity to reach new heights where all Georgians – regardless of zip code – can realize their full potential.
My 2020 budget proposal reflects the values of our state and our shared vision for a safer, stronger, and more prosperous Georgia. These recommendations move every part of our state – even rural communities – forward by putting hardworking Georgians first.
Approximately 44% of Georgia teachers leave the profession in less than five years. To recruit and retain the best and brightest in our school systems, we must remove heavy burdens in the classroom and keep teacher pay competitive.
My budget proposal includes a $3,000 permanent pay increase for certified Georgia teachers, which serves as a large down payment on the promise to ultimately raise pay by $5,000. We also include a 2% merit increase for all state employees. These hardworking Georgians play a vital role in serving our families and crafting Georgia's future. We must continue to reward their efforts.
In addition to investments in personnel we must also prioritize school safety. Our classrooms should be safe havens for students – not hunting grounds for school shooters.
In the amended budget for 2019, I included $69 million in one-time funds for school security grants. All 2,294 public schools in our state will receive $30,000 to implement security priorities determined by local school boards, administrators, teachers, parents, and students.
To keep students safe, we must also address the mental health issues that often lead to school violence.
With $8.4 million in additional funding through the successful APEX program, we can focus on mental health in Georgia high schools. These professionals will engage with struggling students and help provide the resources needed to prevent potential disruptive and aggressive behavior.
To keep Georgians safe, we must also address the rise of gang activity in our state.
According to a recent survey conducted by the Georgia Gang Investigators Association, there are over 71,000 validated gang affiliates and 1,500 suspected gang networks in our state.
Even worse, this crisis stretches statewide – rural, suburban, and urban – touching communities large and small. 157 counties and 155 school districts reported suspected gang activity. Social media is becoming a tool for recruitment, with kids as young as five years old being tapped for membership.
My proposal includes $500,000 in initial funds to form a gang taskforce within the Georgia Bureau of Investigation. This highly qualified group of law enforcement personnel will work with local district attorneys and law enforcement to stop and dismantle street gangs.
By utilizing the Criminal Gang and Criminal Alien Database, which will be funded with existing resources from the Criminal Justice Coordinating Council, we can track and deport drug cartel kingpins who are terrorizing our communities. By working in tandem with federal, state, and local partners, we can undermine organized crime and keep Georgia families safe.
Finally, while different parts of our state have unique challenges and concerns, all Georgians deserve access to quality, affordable healthcare. We have included $1 million in the Department of Community Health's budget to pursue state flexibility options for Georgia's Medicaid program that increase choices, improve quality, encourage innovation, and grow access to affordable healthcare across the state.
I am humbled by the opportunity to serve as Georgia's 83rd Governor and fully appreciate the responsibilities and demands of the office. I look forward to partnering with federal, state, and local leaders for a safer, stronger, and more prosperous Georgia.
Together, we ensure a bright and promising future for all Georgians.
Brian P. Kemp is the 83rd Governor of Georgia