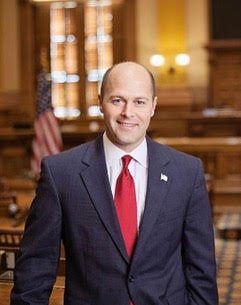 The following opinion piece is an op-ed by Republican candidate for Governor Hunter Hill. It was published without editing and reflects only the views of the candidate and not necessarily those of AllOnGeorgia. All candidates and persons currently serving in elected office have the same ability to submit opinion articles to AllOnGeorgia.
---
To improve how we educate students in Georgia, we must first accept the status quo isn't working. The answer is not throwing more taxpayer dollars into a system that has failed to deliver results for students, parents, and teachers. I fundamentally believe empowering parents with the resources to decide how and where their child is educated will infuse the free market principle of competition into our education system. Where parents and students have greater choices and options, better results will follow.
During five years in the state senate, I consistently fought for stronger school choice reforms. In 2017, I introduced an Education Savings Account bill to allow the dollars we spend educating a student to follow the child to the school or institution that best fits their educational needs. This school choice opportunity would have started with one half of one percent of public school enrollees across Georgia, but the education establishment fought us tooth and nail. New ideas are never easy to implement, but our children deserve better than the same tired, government-centric approaches coming from the status quo.
To elevate all boats in our K-12 education system, we can enact a number of bold, conservative reforms. I believe Governor Deal's Education Reform Commission of 2015 had many of the right ideas.
First, as governor I will push to fully fund our public charter schools. Thousands of Georgia students currently sit on waiting lists to gain admission to these schools because they are working. Forcing some of Georgia's best schools to teach our children with less money than others receive is counterproductive. Let's level the playing field.
Second, our state's education funding formula hasn't been updated since 1985. The formula primarily takes into account the number of staff each school district has – not the educational needs of their students. Reforming our QBE funding formula is vital to our future; making our education dollars focus on the student – not the bureaucracy – is a meaningful step in the right direction.
Finally, for far too long many Georgia students have been trapped in underperforming schools with no way out. Programs like Education Savings Accounts and the Student Scholarship Opportunity have to be an option for students who currently have none. Often in today's education system, only families with significant financial resources can afford to access the best education for their child. In Georgia, a top-notch education should not be dependent on your wealth or your geography. Whether it's online, charter, private, or public I trust Georgia parents to make the best choice for them and their child – not the government.
These reforms will be paired with a commitment to cutting the red tape on Georgia's teachers and principals. I believe teachers do best when they are free to teach, not forced to navigate the bureaucratic nightmare many of them currently face outside the classroom. Similarly, principals should be allowed to be the boots on the ground leaders they are trained to be.
I led in the state senate to fight for real choice in K-12 education and with the right leadership, Georgia can become a national example of how to put students first.
###
Hunter Hill is a veteran of three combat tours, former state senator, and candidate for governor of Georgia.