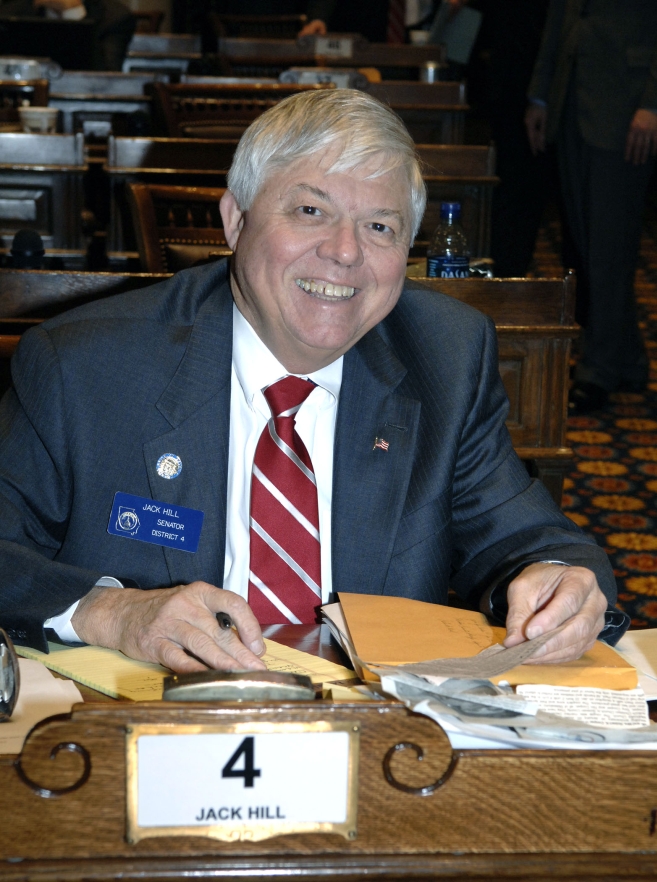 The following article is an opinion piece and reflects those of the author and not those of AllOnGeorgia. Jack Hill is a state senator in Georgia.
---
Led by Governor Kemp and State Economist Ken Heaghney, state agencies made appearances before the Joint Senate and House Appropriations Committees and surprised no one by asking for additional funding.
Governor Kemp thanked the legislators for their response to the hurricane disaster in southwest Georgia during the Special Session and noted the state would continue to stand with those Georgians affected.
He outlined some goals for his administration and how his budget would help the state meet those goals. He cited the importance of classroom teachers and advocated for a $3000 per teacher raise he has included in his FY 2020 Budget. He also mentioned School Safety Funds in his budget that will provide $30,000 per school statewide to implement safety plans.
Gov. Kemp also advocated for $8.4 million for mental health counselors in high schools and mentioned the value of mental health services increases totaling $28.1 million elsewhere in the General Budget.
Fighting gang activity in the state is a top priority as Gov. Kemp is establishing a Gang Task Force and assigning the Criminal Justice Coordinating Council to create a data base.
Citing the importance of healthcare in the state, Gov. Kemp advocated for $1 million in the Department of Community Health budget to investigate waivers for expanding healthcare coverage.
STATE ECONOMIST SEES POSITIVE YEAR AHEAD
Dr. Ken Heaghney, the state economist, believes Georgia will have a positive year in 2019, but cautions that the state economy is growing at a slowing rate. He cites concerns with rising interest rates, trade and tariff issues, the partial U.S. government shutdown and slowing home and auto sales. Dr. Heaghney sees a possible slowdown in late 2019 or late in the fiscal year.
Positive signs that will propel Georgia in the short term are Georgia's continued job growth, low unemployment (under 5%), consumer confidence, and personal income growth.
BOND PACKAGE ADDRESSES MANY STATE NEEDS
The FY 2020 Bond Package totals a net $1.049 billion. The debt service to FY 2020 receipts is projected at 5.29% in the state debt management plan. So, the governor has proposed a moderate level of debt. Highlights of the Bond Package include:
–$299.5 million in Bonds for K-12 school construction around the state
–$209.07 million for Board of Regents institutions for construction projects and equipment
–$105.8 million for the Technical College System for construction and equipment.
–Across state government, there are some 601 vehicles in the bond package for various state agencies
–One of larger agency bond packages funds improvements for the Department of Corrections totaling $42.4 million. Includes closed circuit TV coverage, fire alarms, locking control systems and construction projects including the repurposing of Metro Atlanta State Prison as a reentry and transition prison.
–$14.2 million for the GBI to construct and equip the dual investigative-drug building in Thomson and for vehicles and equipment
–$99.8 million for the Department of Public Safety-Design of the replacement of the headquarters building in Atlanta, replacing Post 33 building in Milledgeville and facility major repairs and renovations at the Public Safety Training Center in Forsyth. Includes other repairs, vehicles, and equipment
–$21.08 million for the Department of Natural Resources for lab equipment at the Drinking Water Lab in Norcross and for repairs and equipment
–$100 million for the continued repair and renovation of bridges around the state
–$150 million in Bonds for the purchase of new voting machines to be in place by the 2020 presidential elections. Secretary of State Brad Raffensperger stated that he will be following the recommendations of the recently completed commission for a machine printed paper ballot that will be able to be audited.
INTRODUCED BILLS IN THE SENATE
SB12: Requires health clubs, such as gyms, athletic clubs, and fitness centers, to have one automated external defibrillator on site and accessible during business hours. This bill would also require that those authorized to use the defibrillator complete training in cardiopulmonary resuscitation and defibrillator use.
SB18: "Direct Primary Care Act"; Helps to define a direct primary care agreement and set forth qualifications and rules to which the provider and the patient must adhere to. It specifies that a direct primary care agreement is not insurance and is not subject to state insurance laws.
SB21: Would require schools to provide cybersecurity instruction to students every year in every grade from kindergarten through 12th grade.
SB24: Requires the registration of electric powered personal transportation vehicles for 12 month licenses.
SB25: Clarifies when drivers do not need to stop when meeting or passing a school bus. This bill changes the definition from divided highway to separate roadways that are separated by a grass median, unpaved area, or physical barrier.