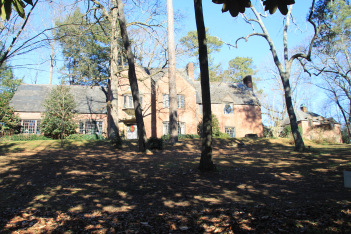 The Kenneth and Hazel Meredith House was listed in the National Register of Historic Places on November 30, 2018. The property is located at 417 Hillside Drive NW in Atlanta (Fulton County). The property owner sponsored the nomination and prepared the nomination materials.
Constructed in 1938, the brick, two-story Kenneth and Hazel Meredith House occupies a wooded 3.5-acre property that includes a garage/servants' quarters (1938), a stone barbecue pit and patio (1938), and a substantial historic landscape. The property is located in north Atlanta in a residential neighborhood today known as Chastain Park.
The Kenneth and Hazel Meredith House is significant at the local level in the area of architecture as a remarkably intact example of English Vernacular Revival style architecture, a defined architectural style in Georgia popular in the 1920s and 1930s. Designed by architect James C. Wise, the Meredith house exhibits character-defining features of the style including masonry walls with a variety of accent materials; a steeply pitched roof; overlapping, front-facing gables; substantial chimneys; and tall, grouped, multi-pane casement windows. The interior exhibits details that reinforce the style including exposed roof timbers, massive fireplaces with Tudor arch surrounds, and heavy woodwork. The house retains remarkable historic integrity with an intact floorplan as well as nearly completely intact finishes, trim, and fixtures in all but three rooms.
The Kenneth and Hazel Meredith House also significant under Criterion C at the local level  in the area of landscape architecture as a remarkably intact example of a residential landscape attributed to William L. Monroe, Sr. A noted Atlanta landscape designer, Monroe founded Monroe Landscape and Nursery Company in 1925, one of the first such companies in Atlanta. He designed Atlanta's Chastain Memorial Park and Adams Park, as well as numerous residential and institutional landscapes. The grounds of the Meredith house, including the intact original barbecue pit and patio, winding paths, tiered rock garden, and period ornamental plantings, are all features characteristic of Monroe's work. Although much of his work is lost or undocumented, Monroe's reputation as a significant influence on landscaping in the city is recognized in Atlanta's community of landscape architects and gardeners.
The National Register of Historic Places is our country's official list of historic buildings, structures, sites, objects, and districts worthy of preservation. The National Register provides formal recognition of a property's architectural, historical, or archaeological significance. It also identifies historic properties for planning purposes, and insures that these properties will be considered in the planning of state or federally assisted projects. National Register listing encourages preservation of historic properties through public awareness, federal and state tax incentives, and grants. Listing in the National Register does not place obligations or restrictions on the use, treatment, transfer, or disposition of private property.