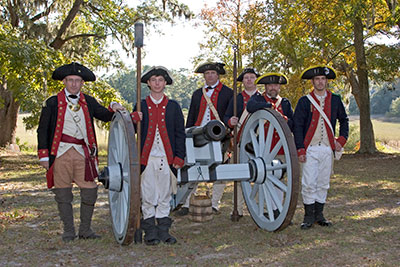 Fort Morris State Historic Site recently expanded its operating hours so that visitors can now tour any day of the week. The grounds are now open 9 a.m. to 5 p.m. daily, and the museum is open 9 a.m. to 5 p.m. Thursday, Friday and Saturday.
"We're so excited to be able to make this adjustment so that even more guests can learn about colonial Georgia history," said ranger Jason Baker.
Visitors who come on days that the museum is open pay the usual admission fee, which ranges from $4.50 for adults to $3 for children. Those who come Sunday through Wednesday will pay just $5 per vehicle, with no individual admission fee. An annual pass is available.
Located on the Medway River in Liberty County, Fort Morris played an important role in the protection of Georgia from the colonial era through the American Civil War. It was constructed in 1741 to protect a plantation during the French and Indian War.  In 1776, it was used to protect the United States' growing seaport from the British. When the British demanded the patriots surrender in 1778, a defiant Colonel John McIntosh replied, "Come and take it!" The British withdrew back to Florida, but 45 days later, they returned with a superior force.  Fort Morris fell on January 9, 1779. More than 20 years later, the fort was once more used against the British during the War of 1812.
Today, Fort Morris visitors can stand within the earthwork remains and view scenic Saint Catherines Sound. A museum and film describe the port of Sunbury and the site's history.  Visitors may borrow binoculars and a field guide to go birding for pileated woodpeckers, goldfinches, wood storks, painted buntings, great egrets and other coastal species.  A gift shop, picnic area, nature trail and group camping area are available.
To learn more, visit GaStateParks.org/FortMorris or call 912-884-5999 during museum hours. On February 10, the fort will participate in the Georgia History Festival's "Super Museum Sunday" with free admission.