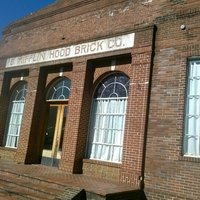 The B. Mifflin Hood Brick Company Building was listed in the National Register of Historic Places on December 6, 2018. The property is located at 686 Greenwood Avenue NE in Atlanta (Fulton County). The property owner sponsored the nomination and prepared the nomination materials.
Originally constructed in 1909 with a substantial addition in 1921, the B. Mifflin Hood Brick Company Building is a one-story, 11-bay brick building located just west of the National Register-listed Virginia-Highland Historic District and immediately adjacent to the Atlanta BeltLine. Built to serve as a showroom and headquarters for the brick company, the building features brick and tile patterning and detailing throughout the interior and exterior, exhibiting the company's namesake product.
The B. Mifflin Hood Brick Company Building is significant at the local level in the areas of social history and industry for its association with B. Mifflin Hood, a prominent and altruistic businessman and engineer/inventor who moved to Atlanta from Philadelphia in 1904 and established a successful brick and ceramics business. When Hood arrived in Atlanta, he was shocked by the working conditions, abuse, and neglect of the convict leasing system, which allowed private companies to acquire prisoners for use as free labor and was widespread in the South at the time. He began fighting for reformation of the system and proudly advertised his own products as "non-convict" brick. In addition to his work in ending the use of convict labor, Hood also worked to improve the industry of brickmaking and ceramics in the South, bringing technological advances such as shale brick and manufactured quarry floor tile to Atlanta; registering multiple patents during his career; and starting a Ceramic Engineering Department at the Georgia Institute of Technology. The building is also significant at the local level in the area of commerce as a good example of a showroom and headquarters for an Atlanta-based business that traded goods across the Southeast.
The National Register of Historic Places is our country's official list of historic buildings, structures, sites, objects, and districts worthy of preservation. The National Register provides formal recognition of a property's architectural, historical, or archaeological significance. It also identifies historic properties for planning purposes, and insures that these properties will be considered in the planning of state or federally assisted projects. National Register listing encourages preservation of historic properties through public awareness, federal and state tax incentives, and grants. Listing in the National Register does not place obligations or restrictions on the use, treatment, transfer, or disposition of private property.