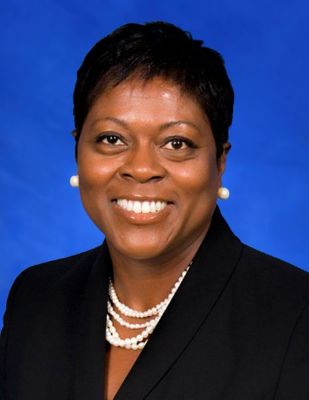 Georgia Department of Transportation Board member Dana L. Lemon was recently honored as one of Engineering Georgia magazine's "100 Influential Women to Know – Women of Character, Integrity and Purpose." The magazine is known as the official statewide magazine of Georgia's engineering industry.
"I am honored to be recognized as one of the 100 Influential Women to Know," said Lemon, who serves Georgia DOT's 13th Congressional District. "I will continue to work with the Board to fulfill GDOT's vision for building and maintaining a dynamic transportation network in Georgia. I remain committed to ensuring opportunities for women, minorities, and disadvantaged business owners."
Lemon, a native of McDonough, is serving her third term on the State Transportation Board. Elected in 2003, she was the first woman elected to the State Transportation Board. She represents Douglas County and portions of Cobb, Fulton, Fayette, Clayton and Henry counties. Dana has served on several other boards including the Davidson College Alumni Association, Odyssey Family Counseling Center and Henry County Chamber of Commerce.
Currently, Lemon serves on the Board of Trustees for Clayton State University and the Board of Visitors for Davidson College, and is president of her family business, W.D. Lemon & Sons Funeral Home. She also serves as the chair of the National Funeral Directors and Morticians Association and is on the executive committee for the Georgia Funeral Service Practitioners Association. Last year Lemon fulfilled a lifelong dream of starting a foundation – The Dana L. Lemon Foundation – a non-profit that provides scholarships to middle and high school students who wish to embark on unique life experiences.
Board Member Stacey Key was recently honored as one of Engineering Georgia magazine's "100 Influential Women to Know" – women of character, integrity and purpose. The magazine is known as the official statewide magazine of Georgia's engineering industry.
"I am honored to be recognized among many other distinguished women and especially with my colleagues at the Georgia Department of Transportation," Key said. "The world is changing around us every day and I am proud of my role in contributing towards improving transportation for Georgians."
Key was elected to the State Transportation Board in 2013 and represents Congressional District 5, which includes Clayton, DeKalb and Fulton counties. She is president and CEO of the Georgia Minority Supplier Development Council (GMSDC) – Georgia's leading organization for supplier diversity and small business development. Key earned a bachelor's degree in business administration and computer science from Western Kentucky University and an MBA from Kennesaw State University. She is a proud graduate of Leadership Atlanta Class of 2014 and the Regional Leadership Institute (RLI) 2018.
Nearly 10 percent of the listing includes women who work for or with Georgia DOT on a daily basis, including State Transportation Board members representing various regions in the state, Georgia DOT's Chief Engineer, Administrator for the Program Delivery Office, Director of Intermodal and Director of Engineering.
The women of Georgia DOT are among the most represented in the magazine's second annual listing https://bit.ly/2tsbCkx, Engineering Georgia provided the department's Chief Engineer Meg Pirkle with the honor of being on the cover and being the subject of their feature story.
Others recognized who are affiliated with Georgia DOT include:
Ann R. Purcell, State Transportation Chair, Congressional District 1
Stacey Key, State Transportation Board, Congressional District 5
Emily Dunn, State Transportation Board, Congressional District 9
Meg Pirkle, P.E., Georgia DOT Chief Engineer
Kimberly Nesbitt, Administrator – Program Delivery Office
Hiral Patel, P.E., Director of Engineering
Carol Comer, Division Director – Intermodal
In the same issue, Engineering Georgia announced its inaugural list of the Top 50 Women in the Know, a list that consists of women who serve clients in their communities, across the country and around the world and are quickly becoming innovators, influencers and experts in their fields. Two additional Georgia DOT employees were named to this list: Natalie Dale, media and government relations liaison and Marlo Clowers, deputy program delivery engineer.
Georgia DOT and its staff of nearly 4,000 employees are responsible for managing a budget of $3.70 billion, maintaining 48,675 lane miles statewide and delivering a sustainable and efficient transportation system that serves all of Georgia.  Entrusted with public resources, the department is responsible for not only what is done and the results achieved, but also for sharing those results. Those tasks have never been more clearly defined than by those including these recognized women and others who are driving and ultimately delivering those results.