The sooner your child sees their doctor the better
Let's face it – nobody likes getting shots. But a shot lasts a second; diseases last much longer. To help protect every adult and child, the Georgia Department of Public Health established Georgia Preteen Vaccine Awareness Week, observed March 12-16, 2018, to serve as a reminder for parents to talk with their preteens and teens about getting immunized against vaccine-preventable diseases.
"Preteens are at an age where they are becoming more aware of their health decisions. They know they should go to the doctor and get vaccinated, yet many times they just don't go — and parents don't see it as a priority," said Janet Eberhart, Immunization Coordinator for the Georgia Department of Public Health Northwest Health District. "Parents, make it a priority to vaccinate your preteen against preventable diseases."
According to the Georgia Department of Public Health Rule (511-2-2), all students born on or after January 1, 2002, entering or transferring into seventh grade and any "new entrant" into eighth -12th grades in Georgia need proof of an adolescent pertussis (whooping cough) booster vaccination (called "Tdap") and an adolescent meningococcal vaccination (MenACWY). This law affects all public and private schools including, but not limited to, charter schools, community schools, juvenile court schools and other alternative school settings (excluding homeschool).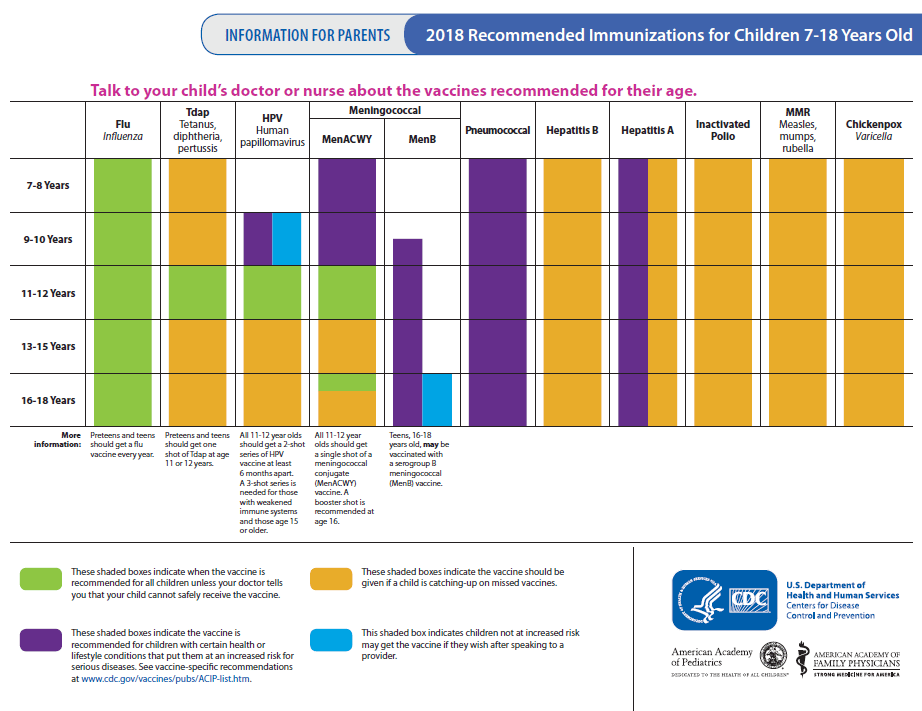 The CDC currently recommends the following vaccines for preteens and teens:
Tetanus, Diphtheria and Pertussis (Tdap)
Influenza (flu)
Human Papillomavirus (HPV)
Meningococcal Disease (MenACWY)
Vaccines are the best defense against serious, preventable, and sometimes deadly contagious diseases. They help families and individuals avoid expensive therapies and hospitalizations to treat infectious diseases like influenza and meningitis. Immunizations also decrease absences from school and after-school activities and decrease spreading illness into the home and throughout the school and the community.
Georgia Preteen Vaccine Awareness Week is an opportunity to raise awareness through schools, health care providers, and the media regarding preteen immunizations, particularly Georgia's pertussis and meningococcal requirements for incoming seventh-grade students. Speak with your physician today to find out if your preteen is up-to-date.
For more information, contact your local health department.  For addresses and contact information for your local health department, go to https://nwgapublichealth.org/counties
###
About the Georgia Department of Public Health Northwest Health District:  The Georgia Department of Public Health Northwest Health District works to track and prevent the spread of disease; promote health, safety, and wellbeing through education and communication; and prepare for, respond to, and ensure our communities are ready to handle public health emergencies, thereby improving the quality of life for individuals and families in ten northwest Georgia counties: Bartow, Catoosa, Chattooga, Dade, Floyd, Gordon, Haralson, Paulding, Polk and Walker.  Our county health departments provide a variety of medical services; monitor area environmental safety, including restaurant inspections; and help ensure their communities are prepared for disasters. Find us on the web at www.nwgapublichealth.org. Follow us on Facebook to receive news, emergency messages, and health information at www.facebook.com/NorthwestHealthDistrict