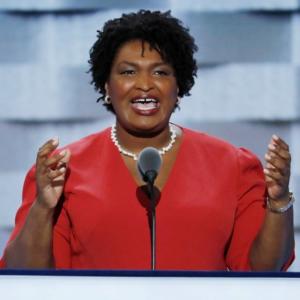 Georgia Democratic nominee for governor Stacey Abrams says the average cost of childcare in the state is more than the average of in-state college tuition.
According to Abrams' campaign website:
The average cost for infant care in Georgia is almost $7,700 annually – more than average in-state public college tuition – and those costs are rising.
Abrams used this information from a left-leaning research think tank known as the Economic Policy Institute. The report she is using estimates the most expensive cost of childcare instead of using the average between in-home childcare and childcare offered at facilities.
The average cost is about $5,900 a year for families, according to the Parents and High Cost of Child Care report.
Furthermore, Abrams believes early learning programs should be well-funded because early learning programs have shown to be "profoundly beneficial to our young children, who have higher cognitive and academic achievement scores in their teen years if they spent time in high-quality daycare as young children."
Abrams appears to be wanting to take the same playbook on early learning as Obama has done citing that there are long-term gains on graduation rates and workforce development. However, those claims cannot be determined. With a quality preschool or pre-kindergarten program, one can see modest short-term gains. However, in almost all of those examples, the gains disappear by the third grade.
Abrams is correct when she states that many rural areas struggle with quality childcare and early learning programs. Many of those areas receive services in the form of the federal government's Head Start Program.
Head Start, too, sees this third-grade slump. According to the Head Start impact study, a randomized experiment funded by the federal government, there were indeed some short-term impacts for 3-year-olds and 4-year-olds, specifically with pre-reading, pre-writing, and vocabulary. However, there were no benefits on oral comprehension, pre-math skills, or phonological awareness.
What Abrams does not mention in her early learning plan is the significant role of the parent in early child development has on long-lasting effects on learning. Instruction from parents before grade 1 has significant direct effects by 3rd grade than being in a "high quality" pre-k program aligned to Head Start instructional frameworks.
A study at Vanderbilt University states that there is "no empirical validity" for pre-school quality. Additionally, none of the widely used measures of classroom and center quality relates strongly, if at all, to child growth on the school readiness outcomes on which most pre-K programs are focused.
Abrams conflates what is commonly known as daycare with quality childcare programs. What the research suggests is that quality childcare programs that focus efforts on serving infants, toddlers, and families in the early years of development have a greater impact on child readiness for school.
Much of the research states that more resources directed to literacy between 1st and 3rd grades have greater impacts and not before. Even before first grade, socialization instructional strategies have a more profound significant impact on early learning.