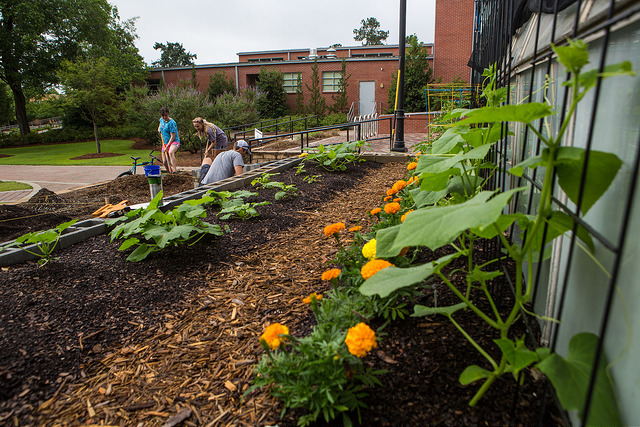 The Golden Radish Award publicly recognizes Georgia school districts for best practices in farm to school programs, such as local food procurement, exposing students to new foods through taste tests and incorporating cooking and gardening activities in curriculum. This year, the Golden Radish partners – Georgia Organics, Georgia's Departments of Agriculture (GDOA), Education (GaDOE), Public Health (GDPH), and the University of Georgia Cooperative Extension (UGA Extension) presented five new awards recognizing innovative farm to school efforts.
Awardees include:
Georgia Organics will present an Organic Radish Award to Warren County Public Schools for including certified organic food in the meals program and teaching organic growing practices to students.
GaDOE will present an award to farmer Lisa Dojan of Fisheads Aquaponics for her exemplary work with Georgia students.
DPH will present an "Innovative Partnership" award to Clark County School District for their partnerships and programs with local restaurants, Americorps, UGA "Grow It, Know It" and UGA Extension, local farmers, and the local food bank.
GDA will present a "Georgia Grown" award
UGA Extension will present the Outstanding Extension Farm to School Program Award to Warren County Public School to recognize the comprehensive school garden plan, complete with harvest parade and-3 acre production garden, a model for our state.
The Department of Early Care and Learning (DECAL) will present a Baby Golden Radish Award to Bleckley County School District for innovative implementation of Farm to Early Care and Education into their embedded preschool Program.
WHEN: Oct. 22, 2018 10 a.m.-1 p.m.
WHERE: Georgia Railroad Freight Depot, 65 Martin Luther King Jr. Dr., Atlanta, GA 30312
WHY: Georgia is a leader in school nutrition. Eighty-four of Georgia's 181 school districts participate in the Golden Radish Awards program and more than 45 percent of districts have farm to school programs. These programs teach students about food and agriculture through hands-on food and garden education, supporting the local economy through local food purchases for school meals, and fighting childhood obesity and other preventable, food-related disease
The 84 school systems being recognized are:
Platinum
Baldwin County School District
Barrow County School System
Bartow County School System
Bleckley County School District
Burke County Public School System
Carrollton City Schools
Cherokee County School District
Clarke County School District
Dade County Schools
Effingham County Schools
Elbert County School District
Fannin County School System
Fulton County Schools
Gainesville City School System
Henry County Schools
Jackson County Schools
Laurens County Schools
Paulding County School District
Sumter County Schools
Tift County Schools
Valdosta City Schools
Warren County Public Schools
Gold
Atlanta Public Schools
City Schools of Decatur
Clayton County Public Schools
Cobb County School District
Coweta County School System
DeKalb County School District
Dougherty County School System
Fayette County Public Schools
Floyd County Schools
Gwinnett County Public Schools
Hart County Charter System
Marietta City Schools
Morgan County Charter School System
Newton County Schools
Rockdale County Public Schools
Savannah-Chatham County Public School System
Treutlen County Schools
Trion City Schools
Wayne County School System
Silver
Atlanta Neighborhood Charter School
Brantley County School System
Carroll County Schools
Columbia County School District
Douglas County School System
Forsyth County Schools
Lee County School System
Lowndes County School District
Lumpkin County School System
Madison County School District
Muscogee County School District
Polk School District
Toombs County Schools
Bronze
Bibb County School District
Buford City Schools
Butts County School System
Calhoun City School System
Coffee County School System
Dalton Public Schools
Dawson County School System
Dublin City Schools
Emanuel County School System
Glascock County School System
Glynn County School System
Habersham County Schools
Hall County Schools
Harris County School District
Irwin County School System
Johnson County Schools
Lincoln County School District
Pickens County Schools
Richmond County School System
Stephens County School System
Wilkinson County Board of Education
Honorary
Dooly County School System
Georgia Department of Juvenile Justice
Grady County Schools
Griffin-Spalding County School System
Scintilla Charter Academy
DODEA Americus Southeast District
Union County Schools
Ware County School District
Wilcox County Schools