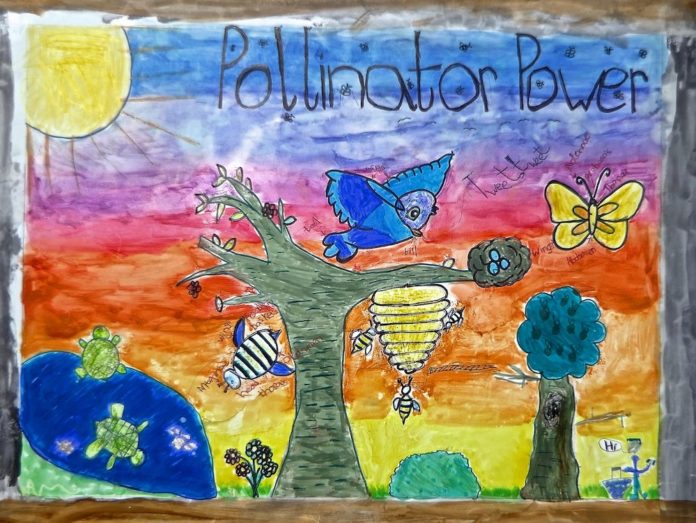 Thirteen school children were announced last week as statewide winners in the Give Wildlife a Chance Poster Contest. The artwork is now on display at state botanical garden in Athens.
More than 1,300 kindergarten through fifth-grade students from 28 public schools, private schools and homeschool groups took part in the 29th annual conservation art competition held by the Georgia Department of Natural Resources and the State Botanical Garden of Georgia.
Statewide winners in the four grade divisions include:
Division 1: Kindergarten
First: Harper White, age 6, Tabula Rasa The Language Academy, Atlanta
Second: Brantley Luckey, 6, Funston Elementary, Funston
Third: Taylor Grace Dibble, 6, St. Joseph Catholic Parish School, Athens
Division 2: First–Second Grades
First: Arjun Sheobaran, age 6, first grade, South Effingham Elementary, Guyton
Second: Magdalena Case, 8, second grade, Oakcliff Traditional Theme School, Atlanta
Third: Youcef Zeguelli, 7, second grade, Fayetteville Elementary, Fayetteville
Honorable Mention: Johana Montoya, 9, second grade, Funston Elementary, Funston
Division 3: Third–Fourth Grades
First: Jumayna Tanha, age 10, third grade, Oakcliff Traditional Theme School, Atlanta
Second: Alfonzo Mitchell, 9, third grade, Fayetteville Elementary, Fayetteville
Third: Briana Baker, 10, fourth grade, Brookwood Elementary, Grovetown
Division 4: Fifth Grade
First: Clementine Plummer, age 11, High Meadows School, Roswell
Second: Yasmin Roberson, 11, Lee County Elementary, Leesburg
Third: Emily Bailey, 11, GEAR (Gifted Education with Academic Rigor) Program, Moultrie
Participants entered at the local school level with drawings and paintings of native Georgia plants and animals in line with the 2019 contest theme, "Pollinator Power!" Entries were judged on aspects such as theme, originality and the quality and impact of the artwork. Top school-level entries proceeded to the state contest at The State Botanical Garden, part of the University of Georgia in Athens.
Winning submissions are showcased on the DNR Wildlife Resources Division's SmugMug site, https://bit.ly/2WBtmH8. The winning artwork also is on display in the Visitor Center & Conservatory at the State Botanical Garden in Athens through May 14, along with other state-level entries.
The State Botanical Garden is home to a range of collections, displays and trails. Educational programs are offered for teachers, children and the public, including summer camps. The Mimsie Lanier Center for Native Plant Species works to educate the public about the importance of using native plants in landscaping to attract native pollinators. Through the Connect to Protect program, the center provides native plants to schools, businesses and communities to help propagate native species. The recently opened Alice H. Richards Children's Garden connects children to Georgia's natural resources and history.