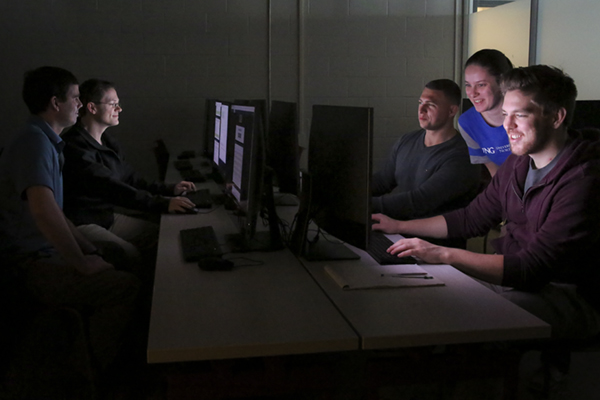 The University of North Georgia (UNG) finished third out of 377 schools — and tops among senior military colleges — in the National Security Agency (NSA) Codebreaker Challenge.
UNG had 81 students participate in the highly competitive, 100-day, nationwide cyber contest that ran from the end of September to Jan. 6. The cyber tasks increased in difficulty from "task 0" up through "task 7," with point values ranging from 50 points on the initial task to 750 for the final level. The school had 69 students solve "task 0" and two solve all the way up to "task 5."
"The NSA Codebreaker Challenge provides students with a hands-on opportunity to develop their reverse-engineering/malware analysis skills while working on a realistic problem set centered around the NSA's mission," according to the NSA Codebreaker Challenge website. "Reverse engineering is a crucial skill for those involved in the fight against malware, advanced persistent threats, and similar malicious cyber activities."
UNG finished with 23,450 points, while first-place Oregon State had 34,900 and Georgia Tech tallied 32,750 for second place. Rounding out the top 10 behind UNG were the University of Tulsa, New Mexico Institute of Mining & Technology, Brigham Young University, University of Cincinnati, N.C. State University, Purdue University and Colorado School of Mines.
As a result of the third-place finish, UNG will take a team of cadets to take part in the NSA's National Cyber Exercise at the Air Force Academy from April 15-17, a three-day cyber operations training exercises with the U.S. services academies. UNG is one of only two senior military colleges being invited for the first time to take part.
"This was perhaps the most difficult and rewarding NSA Codebreaker Challenge in the six-year history of the competition. And we're proud that UNG not only has the number of competitors to put us among the top 10 schools by participation rate, but that our students were able to do the hard work to solve the challenges to finish third," said Dr. Bryson Payne, professor of computer science and director of the Center for Cyber Operations Education at UNG. "Our students should be especially proud of their top-three finish in this very tough and prestigious competition."
Seventeen of UNG's competitors were in Payne's reverse engineering special topic class this fall. UNG now plans to offer the course each fall coinciding with the NSA Codebreaker Challenge, pending approval by UNG's Academic Affairs.
The NSA says it looks to develop these skills in prospective future employees and many Fortune 500 companies also want these skills in their employees as they seek to protect their networks.
Ryan Smith, a senior from Clermont, Georgia, majoring in computer science, was one of 15 UNG students to accomplish more than half of the eight tasks in this year's challenge – only 20 students nationwide out of more than 3,000 competitors solved the final two tasks. Each task could require as much as 40 or more hours of work in the 100-day competition.
"Around every turn in this challenge, there was something new to learn," Smith said.
For the challenge, students had to disassemble ransomware infecting about 12 computers in a fictitious business or government network. In the fictional narrative, some victims had paid a ransom between $10,000 and $20,000.
Beyond neutralizing the malware and recovering the users' files, those solving the final challenge had to find a flaw in the ransomware writer's code and refund the victims' ransom payment by reverse-engineering and exploiting the attacker's cryptocurrency transactions in a private blockchain set up by the NSA.
Madeleine Godwin, a senior from Hampton, Virginia, majoring in computer science, also completed five of the eight tasks in the arduous challenge. She credited Payne's guidance and encouragement for helping her excel in the NSA Codebreaker Challenge. Finishing ahead of so many prominent schools delighted Godwin, who interned at the Department of Defense last summer and plans to intern there again in summer 2019.
"It's a really big deal," Godwin said. "It's something to be proud of."
Smith hopes UNG's success in the NSA Codebreaker Challenge is just the start of a trend.
"That inspires other people to step up and keep it going," Smith said.
Information from the University of North Georgia.