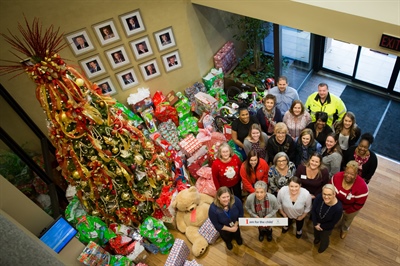 Georgia Ports employees pose with staff from Savannah/Chatham CASA during the wrap-up of GPA's gift drive for children under the care of Savannah Chatham Court Appointed Special Advocates.
Employees of the Georgia Ports Authority helped make the holidays a little brighter for dozens of Savannah-area children Thursday.
For the past 16 years, GPA employees have delivered wrapped gifts for youths in the care of Savannah Chatham Court Appointed Special Advocates (CASA). This year GPA employees provided gifts for 72 children.
"The Georgia Ports is honored to take part in a program that helps children across our community who are in the most need of care and support," said GPA Executive Director Griff Lynch. "Hopefully a small thing like a Christmas gift will remind children who may be going through difficult situations that their community cares for them."
Each GPA gift-giver sponsored a child by filling wish lists with holiday goodies. Gift suggestions included clothes, toys, dolls, bikes and games. Case workers at CASA supply the GPA with wish lists for children and youth of all ages.
CASA volunteers stand up for the best interests of children who have been abused or neglected. Appointed by judges, they speak up for the child's needs in the courtroom and community.
"CASA is grateful for the ports who have sponsored more than 70 of our children this holiday season," said Kate Blair Executive Director, Savannah/Chatham CASA. "Because of their generosity, the children we serve, will wake up to a Christmas morning they will never forget."
Holiday carolers from the West Chatham Elementary School Chorus added to the festive atmosphere Thursday.
Throughout the year, CASA trains volunteers to help hundreds of children who have been removed from their homes and become entangled in an overcrowded juvenile justice and foster care system. The mission of the CASA program is to ensure abused and neglected children find a safe, permanent and nurturing home.
Savannah/Chatham CASA is currently serving 185 children and the need is growing. In Chatham County during 2017, 325 children were in care. Now, just shy of 500 children are in care.