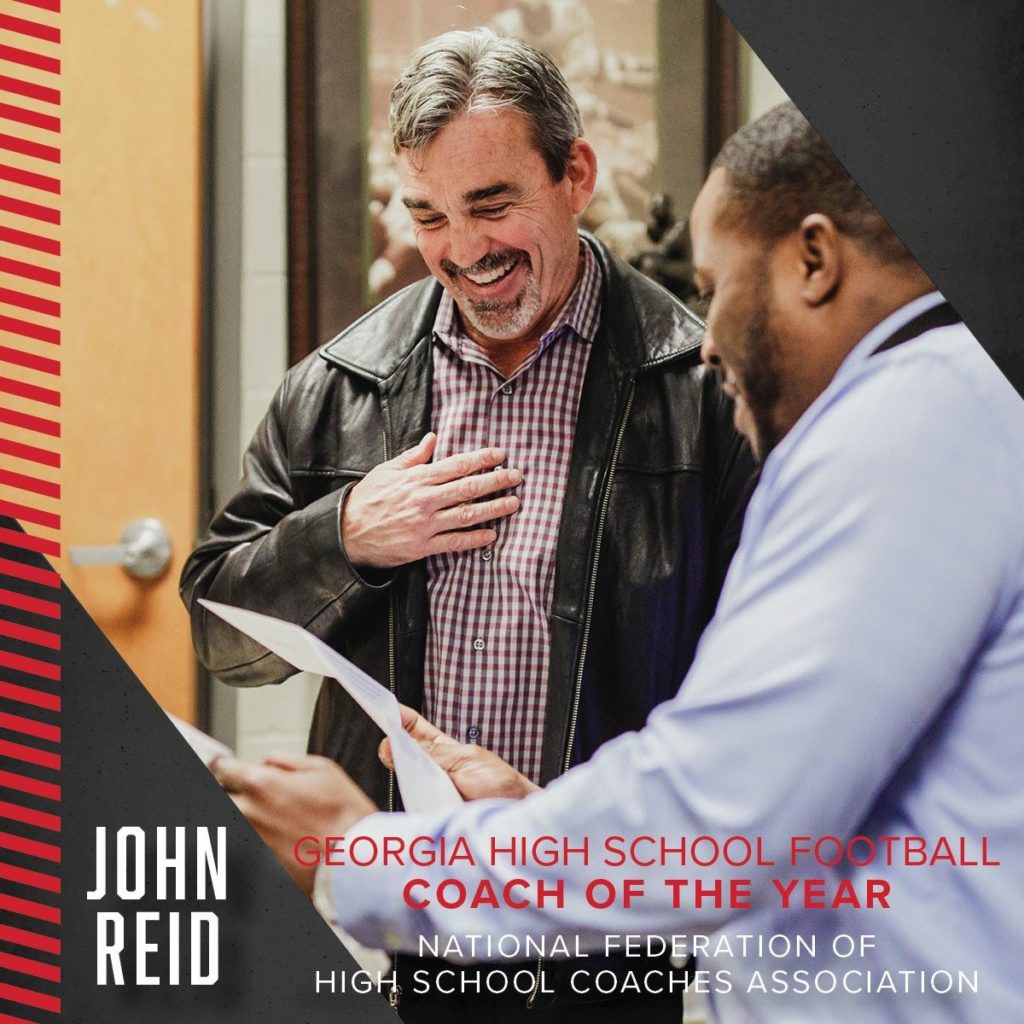 John Reid, Head Varsity Football Coach and Athletic Director for Rome City Schools, was named by the National Federation of State High School Coaches Association as the 2018 Georgia High School Coach of the Year.
Since arriving to Rome for the 2015 season, Reid has led the Wolves to an impressive 50-7 overall record including their historic 40-game run after losing at Kell in September of 2016. Rome broke the West Rome Chieftain's long-standing win streak of 37 games when they trounced Jackson Atlanta by a score of 62-14 in the first round of the 2018 playoffs, bringing their win total to 38 straight.
Rome would later lose a heart breaker to the Warner Robins Demons in the 2018 semifinals when hit the road for a tough game against a stingy Demon defense, leaving the Wolves just two games shy of the three-peat for State Champion.
However, the Wolves' accolades are still a mile long.
That streak also included Rome taking home three Region 7 Class 5A Championships (2016, 2017, 2018), back-to-back State Championships by toppling football powerhouse Buford in the Georgia Dome and Warner Robins on the road, a Georgia State record for most points scored in a season with 758 in the 2017 season, and a massive win against nationally-ranked Marietta when Rome hosted the Corky Kell Classic for the first time in history.
Not to mention, a plethora of division one players have left his team and secured scholarships to play at the college level.
In the 2017 season, Rome Football secured the number one spot in Georgia rankings for Class 5A headed into 2018 and they would climb as high as 14th nationally in the USA Today Poll.
To list all of the accomplishments of Rome City Schools Athletics under his direction would take some time, so it is safe to say that the programs are in good hands with Reid and his staff at the helm.
Coach Reid was given the news of this distinct honor by Rome High School Principal, Dr. Eric Holland. And as always, Reid gave credit to those around him who help to make Rome not only a great place for football, but a great place to go to school.
"I don't think any of this would have happened without the support of our administration. Our Rome City Schools Board has been great at letting us become a great football program. Of course, our principal, assistant principals and our teachers have all helped us to have great children to coach. And I can't say enough about our kids and our parents. They let us coach them, and they come to practice and they work very hard," Reid said. "Any accolades for a head coach is always based on what these players and assistant coaches have done."
Information from Rome City Schools