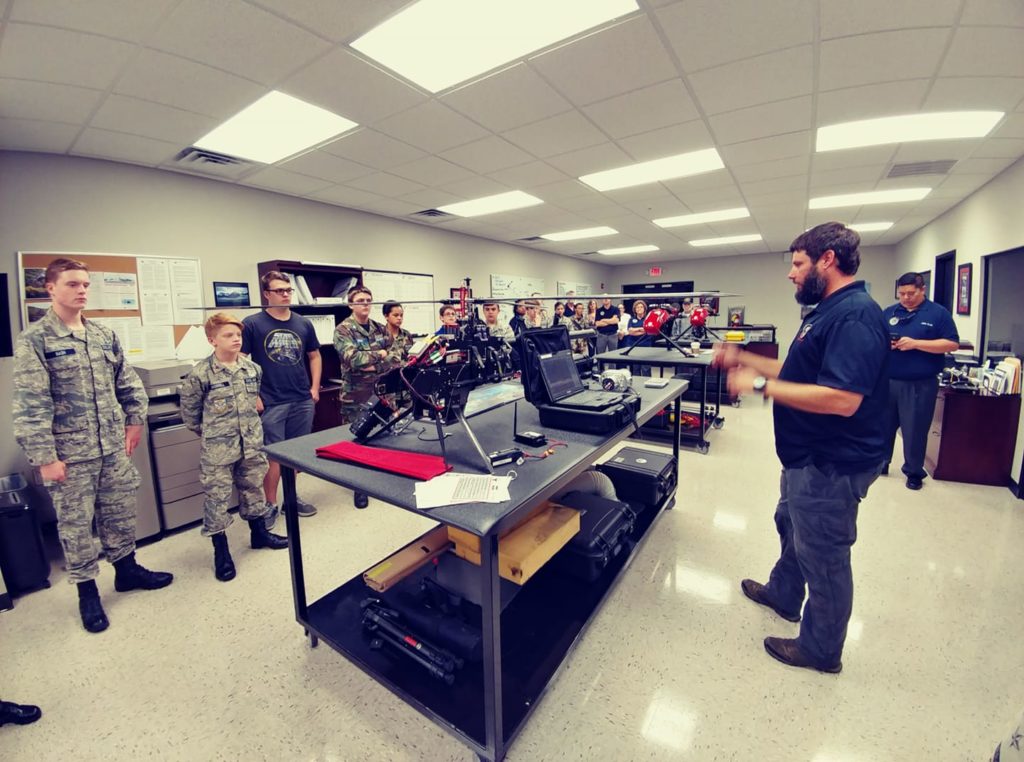 Georgia Northwestern Technical College (GNTC) alumnus Patrick Hayes, a graduate of the Aviation Maintenance Technology program, discovered a lucrative career in the thriving unmanned aircraft industry.
Hayes is the Unmanned Aerial Systems (UAS) Maintenance Lead for Phoenix Air Unmanned in Cartersville. In this role, he maintains and occasionally pilots unmanned aircraft in a wide variety of projects including infrastructure inspections, aerial cinematography, thermal imaging and LiDAR mapping.
A resident of Cartersville, Hayes says that the concepts he learned in GNTC's Aviation Maintenance Technology program to repair airplanes also applies to smaller unmanned aircraft.
"The physics and the principals are the same whether it is a small aircraft or a large aircraft," said Hayes. "I would say the attention to detail that is needed for larger planes is needed in our business as well, we fly some pretty extensive payloads."
According to Hayes, one of the primary businesses for Phoenix Air Unmanned is infrastructure inspections. After Hurricane Michael, the company went to the south Georgia region to assess infrastructure damage. The unmanned aircraft were able to provide valuable and timely insight into damaged infrastructure in remote and hazardous areas.
"Another great accomplishment for Phoenix Air Unmanned is their pioneering of flying beyond visual line of sight (BVLOS)," said Hayes. "This allows us to increase safety, cost effectiveness and efficiency of inspecting electrical infrastructure. BVLOS becomes even more beneficial in remote or not easily accessible locations.
Phoenix Air Unmanned crews have also provided aerial cinematography for many movie productions in the northwest Georgia region, including "Allegiant," "Dumb and Dumber To," "Dirty Grandpa," "Insurgent," "Game Night," "The Fundamentals of Caring," and "Superintelligence."
A 2016 graduate, Hayes says he became interested in GNTC's Aviation Maintenance Technology program because he always had an interest in the hobby side of RC aircraft growing up and later decided to get a private pilot's license.
"Then I really wanted to learn more about aviation and knew that an A&P license would be a key way to learn the overall concept of a plane and aviation in general," said Hayes.
After graduating from GNTC, Hayes worked at Lockheed Martin in Marietta for a year and a half doing electrical for C-130s before he started his career at Phoenix Air Unmanned.
"To me this is the future of aviation," said Hayes. "Technology is going to continue to evolve and things like unmanned aircraft and self-driving cars will continue to become more common."