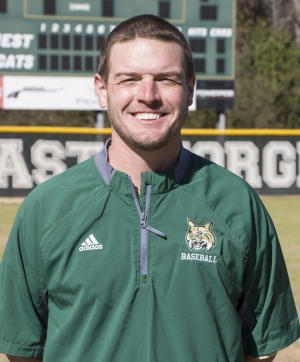 East Georgia State College has a new head baseball coach.
East Georgia State College recently named Dusty Hess Head Baseball Coach. Hess had been serving as Interim Head Coach during last season, but will take the reins this season as Head Coach.
Last season, Hess led the Bobcats to a 32-17 win-loss record, gaining several school records and clinching the conference championship before falling to South Georgia State College in conference play.
Hess says that he is looking forward to instilling the East Georgia way and mentality in the talented group of players joining the Bobcats this season.
"Grand Junction is the ultimate goal. We've gotten close," he says. "However, the first thing we talk about with the team is dominating the state of Georgia."
Hess says that he looks for talented players who play hard and the right way and have character. "We've been able to branch out further than we have before," he explained. "We're getting to the point where we can recruit a larger area."
He indicated that this larger area is a result of making connections, networking, where the program is at successfully, and also work ethic and willingness to go where needed to find a good player.
"I don't think my approach this season is going to be any different. I'll put together a coaching staff, get ready to work hard and put the guys through a long, hard Fall and get ready for East Georgia Baseball," he said.
Hess will start the season with nine returners from last season. Nathan Fancher of Kennesaw, in outfield, will return after an incredible freshman year. Christian Castro of Orlando, Fla. at shortstop is looking to have a great offensive and defensive season. Ryan DelNegro, an exciting and versatile player from New Port Richey, Fla., will be somewhere on the infield for the Bobcats this season and will bring his hitting and defending skills. Jacob Tate served as a reliever last year and is looking to take on a starting role this season. Case Matthews, a pitcher from Dexter, will continue this season in that role. Davis Tovey from Snellville at first base (and sometimes third) is expected to step up and bat in the middle of the order. Fred West of Albany at outfield has lots of potential and is expected to develop into a power middle-of-the-order batter. Alex Glier of Decatur, a switch-hitting outfielder, will set sights on the top of the order. Andrew Giles of Marietta, a physical left-handed bat, will have a chance to provide some offense.
Hess instills in his players the East Georgia Way, which is blue-collar work ethic, carrying yourself with confidence and positivity, a tough mentality of overcoming adversity, playing the game as hard as you possibly can, running on and off the field and playing the game with a lot of hustle.
Prior to serving as Head Coach, Hess also previously served as Assistant Coach at EGSC for the 2016 season (28-29) and 2017 season (30-23). Hess was Assistant Coach at Skagit Valley College and Northeastern State University. He was also an undergraduate assistant at Kansas State University and assistant coach at Manhattan High School No stranger to the diamond himself, Hess played for Fort Scott Community College in Fort Scott, Kansas. He earned his B.S. in Kinesiology in 2011 from Kansas State University, and his M.S. in Health and Kinesiology from Northeastern State University in 2013.
Information from East Georgia State College.