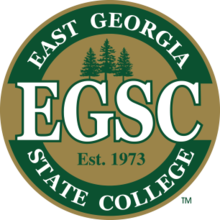 The Mill Creek Foundation recently awarded a $5,000 grant to the EGSC Foundation to provide support to majors in Biology at EGSC to take part in a week-long Study Abroad experience in Costa Rica during the Spring 2019 semester. This grant was submitted by Dr. John Cadle, EGSC Associate Professor of Biology. This grant includes $4,000 in scholarships for students to defray the cost of the travel and lodging to the UGA Research Station in Costa Rica, and $1,000 to purchase supplies to perform research.
Dr. Cadle will teach the BIOL 4500 Undergraduate Research class during Spring 2019, which is required for students to graduate with a Bachelor of Science degree in Biology at EGSC. The three students currently enrolled in this class will perform a literature review and design their research experiment from January until mid-March 2019. Dr. Cadle and the students will travel to Costa Rica during Spring Break 2019 to perform the research experiments, and will analyze their results in April of 2019. Finally, at the end of the Spring 2019 semester, students who participated in this Study Abroad will share their experiences and the results of their research with the EGSC community. This is the first-ever offering of a study abroad experience at EGSC specifically directed toward biological sciences. In addition to gaining international immersive cultural experiences, the students will fulfill requirements for the Bachelor of Science in Biology major.
The UGA Costa Rican field station is located at San Luís de Monteverde in the northwestern part of the country. The field station is adjacent to several types of tropical ecosystems (montane- and cloud forests, agroecosystems), and others are available in the region. Staff scientists conduct research on local fauna, flora, and ecology. EGSC students will be able to avail themselves of the opportunity to interact with these scientists and take part in ongoing long-term research projects of the station.
"Undergraduate research has always been a pillar of the Biology Program at EGSC. I am very grateful to the Mill Creek Foundation for supporting this project and enhancing the research opportunity at EGSC," said Dr. David Chevalier, Chair of the Biology Program at EGSC. "Dr. Cadle's experiences will ensure the success of this study Abroad."
Dr. Cadle, who has had broad overseas experience conducting scientific research and assisting with study abroad courses originating from Europe and the U.S. Dr. Cadle is considered an expert on tropical biology with specific expertise on fauna and ecology in the Neotropics (Central and South America). He has conducted research and teaching in Costa Rica, as well as many other countries throughout Latin America, and is fluent in Spanish.
Biology student Yamin Chhipa, who will be traveling to Costa Rica as part of this program, said, "I am thankful to the Mill Creek Foundation for investing and believing in my ability to bring positive impacts in everyday lives."
Dr. Cadle also added, "The support of the Mill Creek Foundation for East Georgia students to conduct research in the tropical forests of Costa Rica is an amazing extension of our biology program. For the first time, our students can be exposed to the astounding biological diversity found in tropical regions, which will enhance their appreciation and understanding of the particular problems and opportunities these ecosystems provide. We are deeply grateful to the Foundation for affording these students the chance to broaden their biological perspectives while simultaneously experiencing the cultural setting Costa Rica offers."