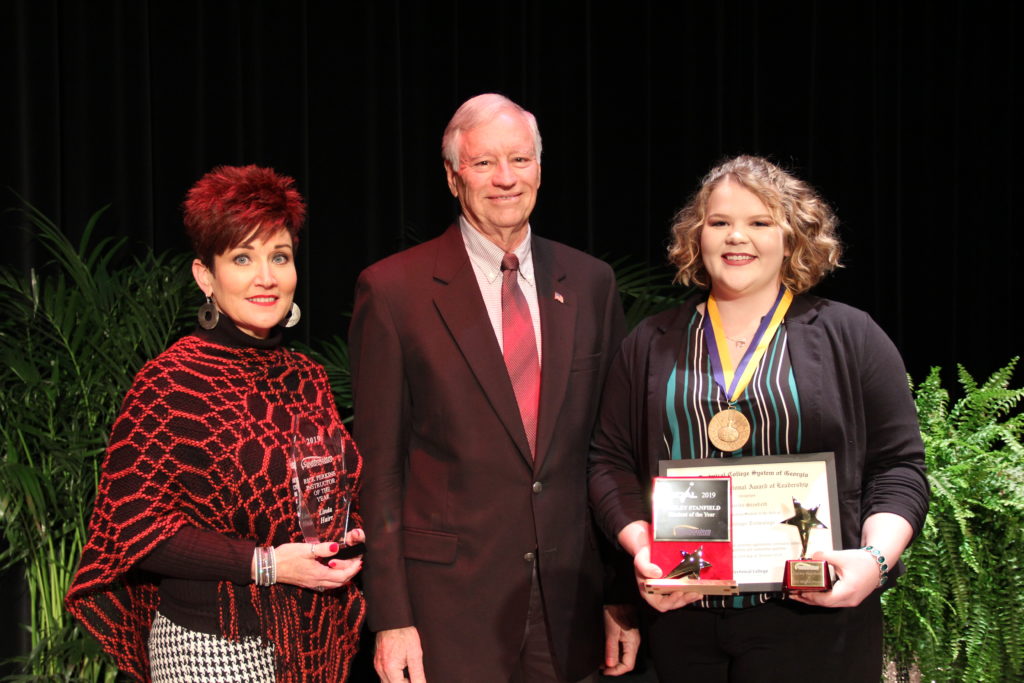 Southeastern Technical College (STC) announced its Georgia Occupational Award of Leadership (GOAL) and the Rick Perkins Award of Excellence in Technical Instruction on Tuesday January 22.
Harley Stanfield, a Radiologic Technology student from Uvalda, has been named as the college's GOAL winner.
"I'm so thankful I can share my story and publicly advocate on just how amazing the technical education system of Georgia truly is," said Stanfield. "I've found my voice, my purpose, and my happiness with the technical education system. I am confident beyond reasonable doubt that I possess the skills and I've been successfully trained in diagnostic medicine. I'm thankful to express how proud I am to be the product of technical education in Georgia."
GOAL, a statewide program of the Technical College System of Georgia (TCSG), honors excellence in academics and leadership among the state's technical college students. Stanfield will now proceed to regional judging. All college GOAL winners will receive an all-expense-paid trip to Atlanta for three days in April. A panel of leaders from business, industry, and government sectors will interview them and choose one to be the 2019 State GOAL Winner and TCSG's Student of the Year.
Local GOAL winners are selected at each of the state's 22 technical colleges. Three from each of the three regions then make up the nine regional finalists, who will be named in April at the state GOAL conference in Atlanta and compete at the state level. The student who earns the State GOAL Winner title is also awarded the important responsibility of traveling the state as the ambassador for the entire technical college system. To make that travel easier, the winner also receives a new car from Kia Motors Corporation, the statewide corporate sponsor of Georgia's GOAL program.
"The purpose of the GOAL program is to spotlight the outstanding achievement by students in Georgia's technical colleges and to emphasize the importance of technical education in today's global workforce," said Melissa Rowell, STC's GOAL Coordinator.
According to Rowell, a screening committee of administrators at STC selected the four finalists from a list of students nominated by their instructors. "A panel of community leaders interviewed and evaluated these four students and selected one to be the college's 2019 GOAL winner," explained Rowell.
The 2019 community committee of judges: Jennifer Davis of Toombs Central School, Patricia Dixon of Toombs, Montgomery, Wheeler United Way, Tonawanda Irie of Toombs Central School, Milly Hester Kennedy of Kennedy Network Services, and Carmen Roberts of Toombs County Schools.
This panel considered the students' qualities like academic achievement, personal character, leadership abilities and enthusiasm for technical education and chose Standfield.
The other GOAL finalists were Haley Grant, a Dental Hygiene student from Wrightsville, Karneisha Holloway, a Dental Hygiene student from Metter, and Sarah Trenerry, a Dental Hygiene student from Jesup.
Students nominated by their instructors and honored this year were Terri Butler in Business Management, Amy Carter in Associate of Science in Nursing, Deanna Clay in Associate of Science in Nursing, Donna Davis in Business Healthcare Technology, Brian Flanders in Hair Designer, Haley Grant in Dental Hygiene, Amber Gamiza in Clinical Laboratory Technology, Karneisha Holloway in Dental Hygiene, Jamie Kilgore in Healthcare Management, Ryan Norkus in Welding and Joining Technology, Emily Rivers in Healthcare Management, Harley Stanfield in Radiologic Technology, Kristen Stark in Medical Assisting, Sarah Trenerry in Dental Hygiene, Charlotte Kay Whitaker in Fish and Wildlife Management, and Crystal White in Medical Assisting.
Linda Hairr, Cosmetology Instructor from the Swainsboro campus, won the Rick Perkins Award of Excellence in Technical Instruction.
Hairr has taught at STC for eight years. Hairr will now compete against the winners from other technical colleges in the region. Three regional finalists will be named in April at the annual GOAL and Rick Perkins Award conference. An additional round of competition determines the state winner.
The Rick Perkins Award for Excellence in Technical Instruction honors technical education's most outstanding instructors. The award has been an ongoing statewide event since 1991 and is designed to recognize and honor instructors who make significant contributions to technical education through innovation and leadership in their fields. Instructors are nominated for the award by their respective technical college. The Rick Perkins Award winner serves as an ambassador for technical education in Georgia.
Both GOAL and Rick Perkins state winners will make many public appearances throughout the year, including addresses to the Georgia General Assembly and the Governor, as well as civic organizations, schools, and similar groups.
2019 faculty member of the year finalists were Joanna Bell, Practical Nursing, Linda Hairr, Cosmetology, and Erica Harrison, Biology.