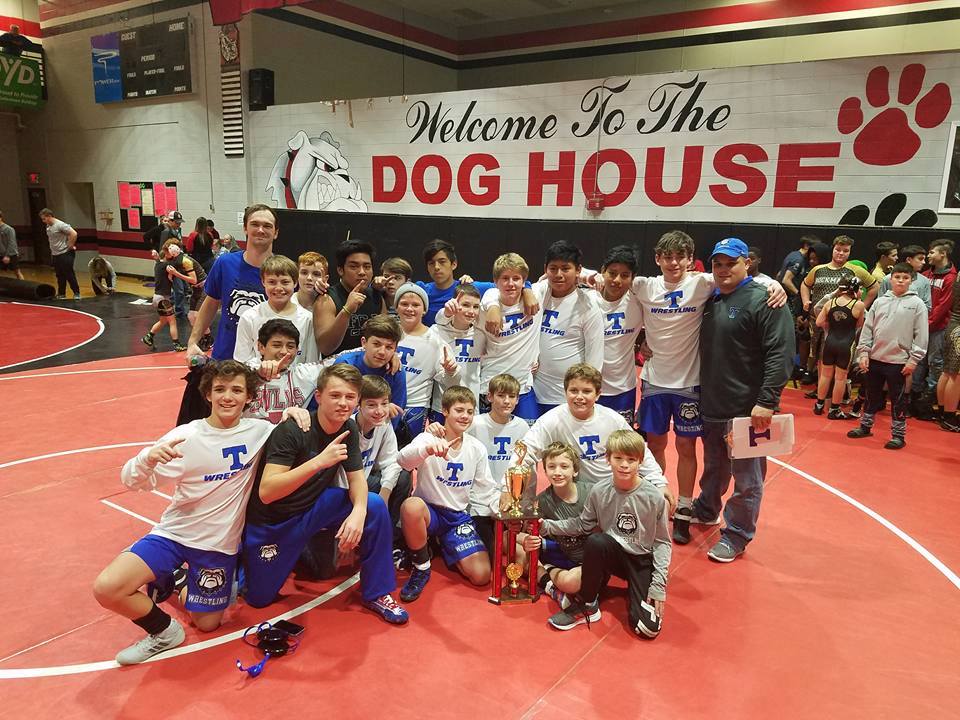 The Trion Middle School Wrestling team continued their undefeated season on Thursday, November 8 with an 81-3 win over Heritage. That following Saturday, November 10, the team participated in their first dual tournament of the season at Cedartown. On their way to being named tournament champions, Trion defeated Eastbrook 57-53, Pepperell 60-37, Rockmart 57-46, and Woodland 68-48. On Monday, another win came after defeating Lakeview 81-6. Trion's record improved to 8-0 when they claimed victory over Chattanooga Valley on Tuesday with a score of 75-12.
The TMS Wrestling team wrestled in the Gilmer Bobcat 2-n-1 tournament at Clear Creek Middle School on Saturday November 17. This tournament consisted of a varsity and jv tournament ran simultaneously. The team finished 2nd behind Tift County in team standings. Tournament champions were Jason Jenkins, Cohen Blaschke, Lane Harris, and Logan Eller. Crawford Lee, Toby Maddux, and Gus Hames placed 2nd, Colby Evans placed 3rd, and Sergio Ramos placed 4th,
Jason Jenkins, Cohen Blaschke, Lane Harris, and Logan Eller all remain undefeated in varsity matches so far in this young season. Crawford Lee, Toby Maddux, Logan Potts, Colton Sanford, James Willingham, Gus Hames, Carter Conley, Lance Maynard, Cayse Pelico, Johnny Vasquez, and Colby Evans have also wrestled tough and had very good starts to the season.
Next in line for the wrestling team will be Dade County and Ashworth on Tuesday, and Gordon Lee on Thursday. They will also compete at the Raider Rumble Duals in Cleveland, Tennessee on Saturday.
Tues., Nov. 27 Dade County/ Ashworth Home 4:30
Thur., Nov. 29 Gordon Lee w/ JV Home 4:30
Sat., Dec. 1 Cleveland Raider Rumble Duals @Cleveland, TN TBA
Tues., Dec. 4 Ringgold/Lafayette Home 4:30
Thur., Dec. 6 Saddle Ridge w/ JV Home 4:30
Sat., Dec. 8 NGAC Duals @Gordon Lee TBA
Fri.-Sat., Dec 14-15 NGAC Individuals (JV Fri) @Chat. Valley TBA
Thur., Nov. 15 Armuchee/Eastbrook @Armuchee 4:30
Sat., Jan. 12 Middle School State Duals @Gilmer High School TBA
Contributed article