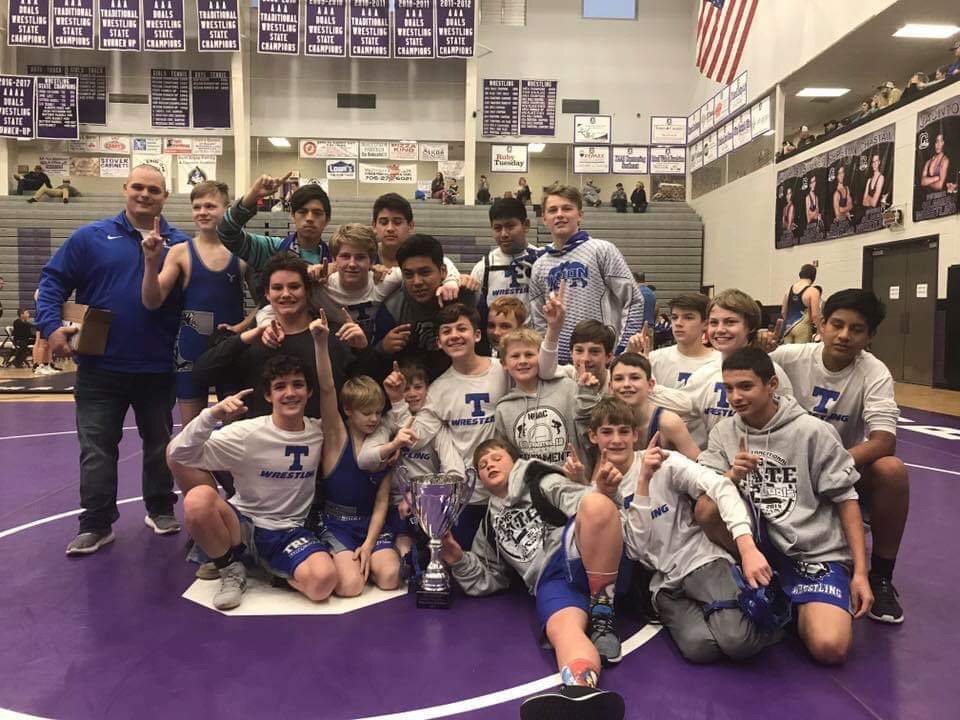 The Trion Middle School Wrestling Team ended their season with a Georgia State Duals Championship.  It was icing on the cake after having a remarkable season and winning the NGAC Duals and Traditional Tournaments.  The Georgia Middle School State Duals is an elite tournament filled with the best middle school teams from across Georgia.  This year's tournament was held at Gilmer high school and had 15 teams in attendance.
In the first match of the day, Trion defeated North Hall Middle School by a score of 76-3.  West Laurens Middle School proved to be a tougher fight in the quarterfinals, but the Bulldogs were again victorious by a score of 48-33.  In the semi-finals, a very strong Tift County team was in the way of a state finals appearance for the Bulldogs.  The match was closer than the score of 48-28 suggests, but nonetheless, the Bulldogs were in the state finals against Eastbrook Middle School.
The state finals match was a rematch from an early season victory by the slimmest of margins for the Bulldogs at the Cedartown Duals.  Eastbrook was on a roll after defeating South Hall, Chestatee, and Jefferson; the returning state champs.  Their fire quickly burned out as Trion went on to win the match 50-29.
The Trion Middle School roster consisted of 4 sixth graders: 72- Jason Jenkins, 79- Logan Potts, 86- Colton Sanford, and 125-Lane Harris; 3 seventh graders: 110- Cohen Blaschke, 118- Toby Maddux, and 275- Colby Evans; and 9 eighth graders: 94- James Willingham, 102- Crawford Lee, 132- Gus Hames, 139- Logan Eller, 147- Carter Conley, 155- Sergio Ramos, 165- Cayse Pelico, 180- Jayson Ramirez, and 210- Johnny Vasquez.
"The future is bright for the Trion Wrestling program as good kids continue to get involved.  On and off the mat, they are committed to the hard work and determination that it takes to be successful," Coach Blevins said. 
The Trion High School Wrestling team will compete in the GHSA State Wrestling Duals this weekend in Macon, Georgia.