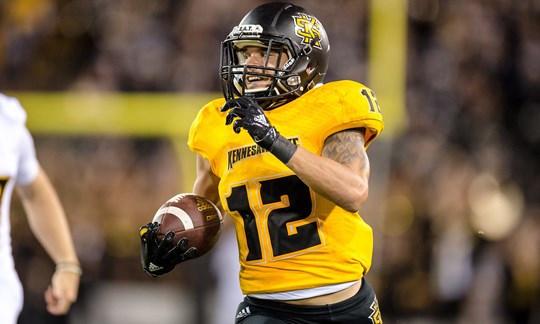 Freshman Isaac Foster earned Kennesaw State's first Big South weekly award of the season on Monday, after he was named the league's Special Teams Player of the Week.
Foster was untouchable on the return team for the Owls, racking up 166 total return yards and breaking multiple records against Alabama State.
The Summerville, Ga., native opened Saturday's second half with a bang, taking the opening kickoff end-to-end for a touchdown. His 100-yard return broke the all-time kickoff return record at KSU. It was also his first career kickoff return.
Foster also returned two punts during the game, taking both 33 yards before finally being dragged down. His 66 total punt return yards is one-yard shy of the single-game record at KSU, set by Bert Birdsall in 2017. His 33-yard single-game punt return average shattered the previous record of 17.5 by Taylor Henkle.
Not only did he return kicks, but Foster was crucial for the Owls defensively, recording three tackles on special teams.
Look for Foster in the return game when KSU takes the field this Saturday, hosting Clark Atlanta at 6 p.m.
For more information on Kennesaw State athletics, follow @KSUOwlNation on Twitter or like Kennesaw State Owls on Facebook and Instagram.
Isaac Foster finished his football career at Chattooga as the all time leading scorer in school history with 336 points. Foster, rolled up 16 rushing touchdowns with 137 carries and 1,362 yards his senior season for the Indians.