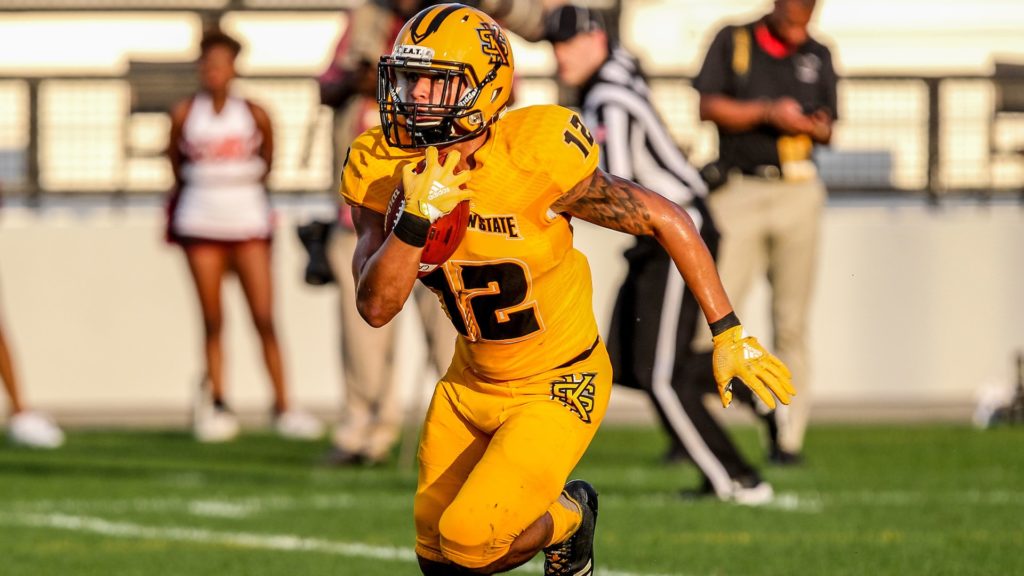 Kennesaw State recently published an article featuring Isaac Foster on ksuowls.com.
Humble and hungry.
Those are the two words that Kennesaw State football head coach Brian Bohannon tells the Owls to be at every practice, and the first words that came to mind when asked about recent standout Isaac Foster.That and "he's really fast."
A redshirt freshman, Foster raced on to everyone's radar on Sept. 15 against Alabama State after taking his first career kick-off return 100 yards for a touchdown, the longest return in KSU history. He finished the game with 166 total return yards and three special teams tackles on his way to being named the Big South Special Teams Player of the Week.
But when you ask Foster about the return, after the yes sirs and the thank you ma'ams, all the credit goes to his teammates.
"I just had some great blocks from the guys on kickoff return," said Foster. "That's how I did it. As soon as I caught the ball, the middle of the field split open, my guys, they block great. I knew it was going to be a good return."
"He's so humble," coach Bohannon exclaimed. "You wouldn't have known what he did at practice the other day, and you won't know it today, because he's going to go out the same way and try to prepare himself to have a good game. I think it's his personality, and I hope it's contagious, infectious, because it's a great way to go about your business."
It's the way Foster has been since high school. Originally from Summerville, Georgia, he was an all-star dual threat running back and quarterback for Chattooga High School. Foster finished his career as the all-time leading scorer at Chattooga with 336 points, while racking up 3,243 yards on the ground during his tenure.
With a dream to play Division I college football, Foster came to Kennesaw last year looking to break through the Owls' deep corp. of 16 running backs, and nearly succeeded.
"We were very close to playing him as a true freshman, which is tough to do at that position," said Bohannon. "In fact, we went about a month, he was practicing, we were going to play him and then we decided not to."
But that didn't hinder Foster as he turned his focus to learning the offense and improving his game.
"We have some amazing backs," boasted Foster. "It's awesome to come to practice every day with each and every one of them. They push me to get better and I feel like I push them too. It's awesome learning from Darnell [Holland], Shaq [Terry], TJ [Reed] and [Trey Chivers]. They are awesome guys."
But even resigned to the practice squad his first season, Foster still stood out.
"He practices at 100 miles an hour," said Bohannon. "Attention to detail, every little thing he does. I'm not completely surprised at what he did the other night, simply because I think it's just been a matter of time."
That is a sentiment shared by special teams coordinator and running backs coach Tim Glanton.
"That kid is hungry," said Glanton. "All he wants to do is contribute to this team. If you looked up the definition of team player, his name is underneath. All he wants to do is contribute, and when he gets an opportunity to touch the ball, he is going to make something happen."
The KSU faithful hope that is the case because they are hungry as well. Hungry for more highlight reel plays and hungry to see what Foster will do next.