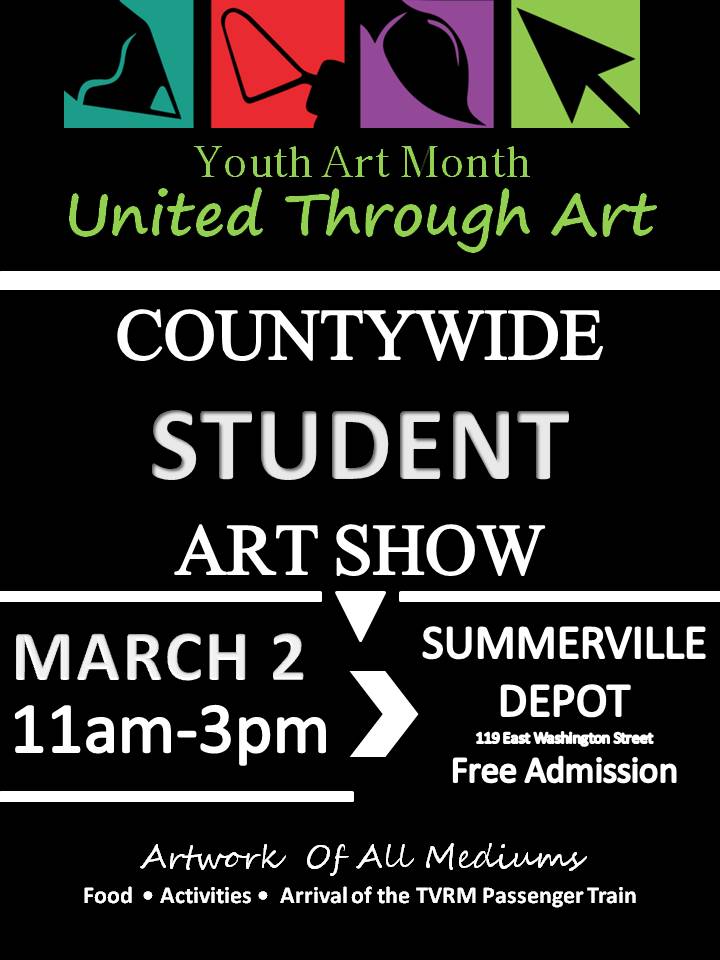 In celebration of the National Youth Art Month, Summerville Main Street will sponsor "United through Art" – A Countywide Youth Art Show on Saturday, March 2, 2019 at the Summerville Depot. All mediums of art work created by our county's youth, ranging from grades K-12 will be on display inside the depot from 11:00 a.m. – 3:00 p.m.
Youth Art Month is a month of promoting art and art education in the United States. It is observed in March, with thousands of American schools participating, often with the involvement of local art museums and civic organizations. Schools and homeschoolers countywide will be participating in the show, as well as Mentone, Alabama's Moon Lake School.
New for the 2019 year, free interactive art activities will be a highlight for the March 2 show, along with live musical entertainment. Moon LakeSchool chorus, soloists, and hand bell choir will perform beginning at 12 noon and the Chattooga High Jazz Band will perform from 1-2 p.m. in the depot freight room. Small Town BBQ and other food items will be available for dine-in or take home. Youth art will remain on display for locals and tourists to enjoy a second showing on Saturday, March 16 from 11:00 a.m. – 3:00 p.m.
The Tennessee Valley Railroad Museum Passenger Train will make its first scheduled appearance for 2019 on March 2 around 1:00 p.m. Following the train arrival, spectators may enjoy the turning of the steam engine on the Summerville Turntable. The public is encouraged to attend this free event to celebrate and encourage youth art. For more information on this event contact Summerville Main Street at (706) 859-0900 ext. 1337.