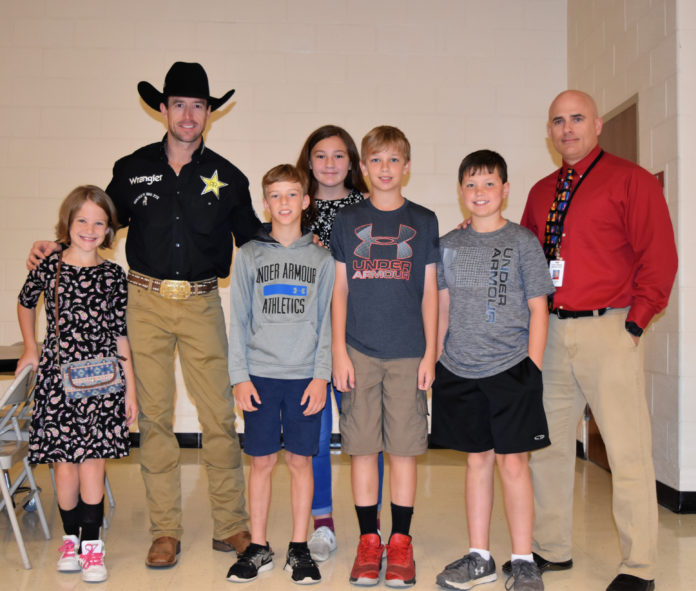 Doesn't everyone wanna be a cowboy?
Fifth grade students at Leroy Massey learned what cowboy life was like while enjoying a visit from Pro Bull Rider, Sean Willingham, on September 26th. Willingham is a Chattooga County native and local resident who has proven to be an award winning professional bull rider! He saw bull riding at the Summerville Rodeo in high school and had to try it. He was hooked from day one and, of course, he was good at it too. 
As students were enthralled with his cowboy getup and gear, they listened eagerly as Willingham described the tools and clothing that he used for the bull riding sport.  He addressed 5th grade geography and history standards  as he shared stories about the many locations around the world in which he has traveled with his bull riding competitions and experience as a cowboy.  His visit was one that left a message with the students – that success and achievement can come with hard work and determination!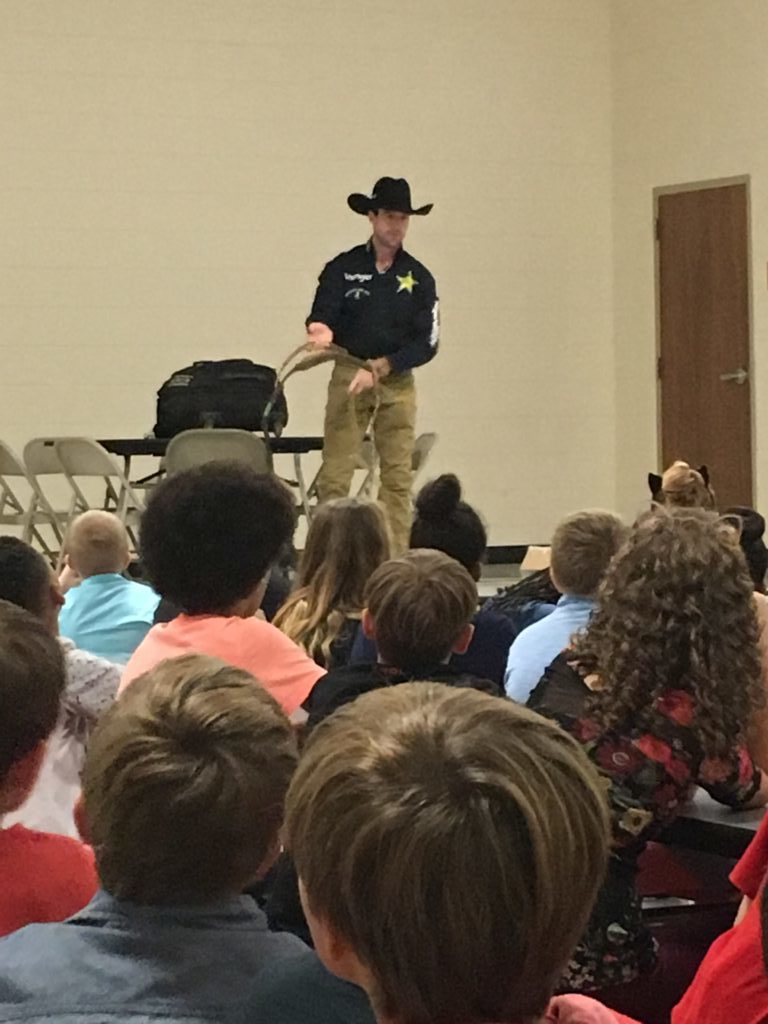 Mrs. Bobbette Rokus, LMES teacher of 5th Grade Social Studies, arranged the visit with Mr. Willingham, to provide an experience for students to see what "cowboy life" was like and to have an opportunity to meet a cowboy in person!  The students have been studying about the cattle drives of the Old West and the role of cowboys during this period in US History.  Willingham's visit helped to bring a real life experience to the students' study of the past.
For those wishing to see some live bull riding, the 3rd Annual Sean Willingham Invitational presented by Slingshot & Indian motorcycle of Chattanooga will be held at McKenzie Arena on Oct. 6th! 35 guys will battle it out for 8 seconds of intense and grueling action. There can only be one champion at the end.
Willingham is giving away four tickets to the Sean Willingham Invitational, the giveaway information can be found on All On Georgia Chattooga's facebook page.
Sean Willingham is giving All On Georgia – Chattooga readers a chance to win a family 4-pack of tickets to the 3rd Annual Sean Willingham Invitational Bull Ride! Watch the video, share the video, drop a comment for your chance to win. Winner will be announced Friday October 5th.

Posted by All On Georgia – Chattooga on Sunday, September 23, 2018
Contributed Article