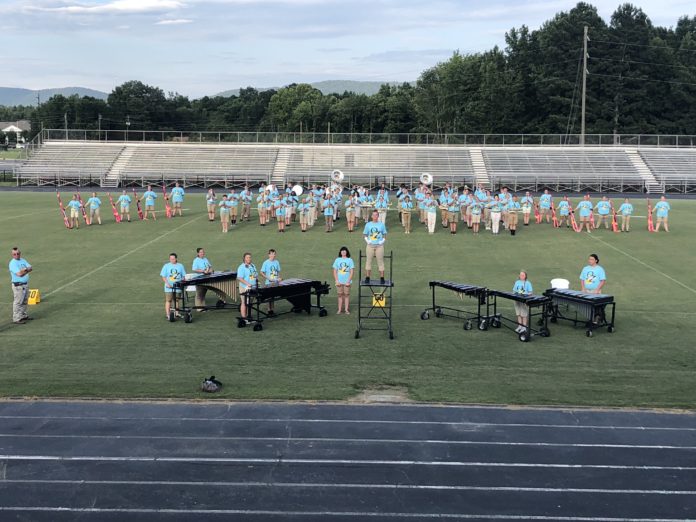 School may have ended on June 1, but the band keeps going strong during summer vacation. Each Monday in June the band meets from 10 a.m. to 4 p.m. in summer sectional rehearsals. This time is used to teach fundamental marching techniques and practicing new music for this year's halftime show. The work doesn't stop there as Monday practices go all the way through when band camp is held the last two weeks in July each summer. Band camp is where the halftime show is set on the Chattooga High School Marching Indian practice field by the band's director, Gene Greer. This is his fifth year leading the Marching Indians. Band alumni return each year to help at band camp in a variety of positions from teaching band sections, to color guard and videography. Also returning this Undra Finley who returns to assist the visual ensemble as Visual Consultant.
Thursday, the band students were treated to a homemade roast chicken lunch after they came in from four hours on the practice field, by Horizon Baptist Fellowship. Friday after the last day of band camp, the City of Summerville Fire Department made their yearly visit to wet the kids down with cold water from their fire truck. As usual, Gene Greer gets in on the fun with his band students and doesn't mind getting soaked along with the kids who have put in two weeks of hard work in the summer sun.
Friday evening July 27, the CHS Marching Indians presented their 2019 preview show titled "Oz" at the Little Big Horn stadium to a packed hometown crowd and family excited to see what their band students have spent the last two weeks working on. Everyone has grown up watching Dorothy wear those ruby red slippers and make the journey to see the wizard with the tin man, scarecrow and cowardly lion in her quest to make it back home. This year's show is packed with memorable tunes from The Wizard of Oz and also The Wiz, each a childhood favorite in its own right. Spectators will be able to relive their childhood memories of Oz while listening to the band perform "If Only You Believe", "Over the Rainbow", "So You Wanna See the Wizard", "Ease on Down", "Ding Dong the Witch is Dead", "Brand New Day" and "Home".
From the crowd reaction, this will be another very entertaining show for hometown and away crowds to see at halftime. After the kids got done with their performance, they were fed hot dogs and hamburgers by the Chattooga Band Boosters. Each Friday night this fall, make sure you get to the Little Big Horn stadium or follow the band to an away game to travel down the yellow brick road one more time.
By Carla Love