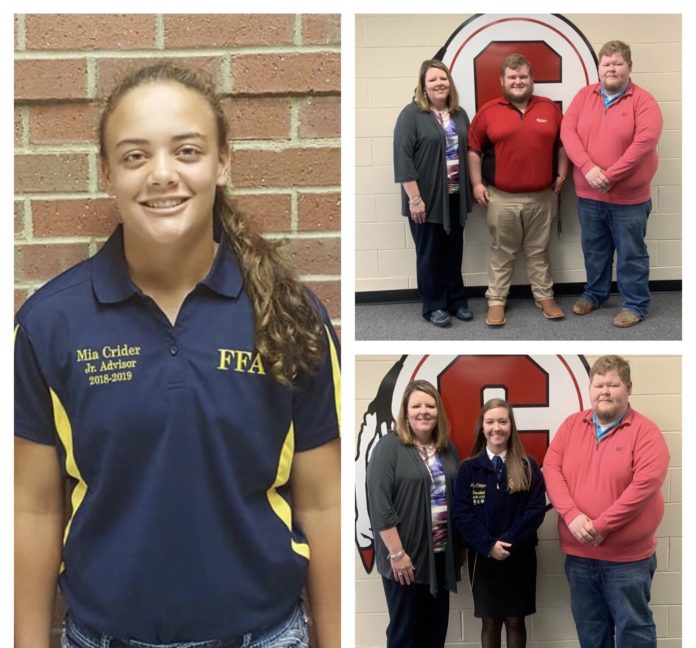 Chattooga High School FFA Members Jorja Cooper, Mia Crider and Jesse Blalock were recognized at the March Board of Education meeting for advancing to State competition on their Supervised Agriculture Experience projects.
Jorja Cooper is a Senior at Chattooga High School this year and has a storied FFA career, earning multiple awards and accomplishments.  Jorja has worked diligently toward this project since middle school.  She has also mentored younger students and helped them with similar projects.  Jorja's project is in Dairy Production/Placement.  She got 1st in Region and is one of the select few to make it to the State competition.
Mia Crider is a Junior at Chattooga High School and has also exceled in many ways in FFA, earning numerous awards and even a State title.  Mia is currently putting the finishing touches on an Ag Science Fair project which she hopes to be able to present at the State FFA Convention.  Mia's project is in Agriscience/Plant Systems.  Mia got 2nd Place in Region and will be awarded for this accomplishment at the Area 1 FFA banquet in May.
Jesse Blalock is a recent graduate of Chattooga High School but is still very active in the FFA program.  Through FFA, Jesse is able to compete one year after graduation in this award category.  This is just one example of how CTAE continues educational training even after our students join the workforce.  Jesse stops by frequently to help in the agriculture mechanics shop to mentor younger students.  Jesse's project is in Agriculture Repair and Maintenance Entrepreneurship.  Jesse got 1st in Region and is one of the select few to make it to State competition.