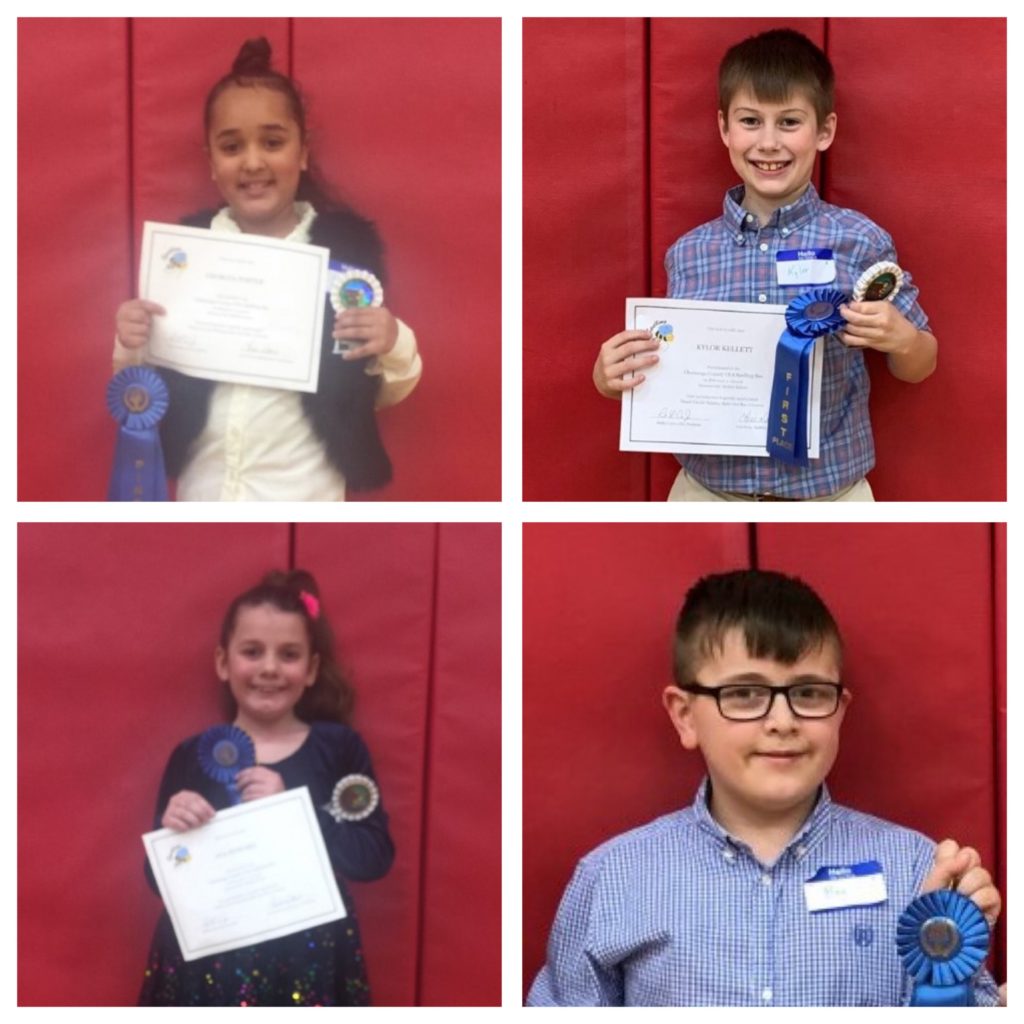 The Chattooga Education Association sponsored its annual countywide district spelling bee on the evening of Tuesday, February 5 at Summerville Middle School.  First through eighth grade students from Leroy Massey Elementary, Lyerly Elementary, Menlo Elementary, and Summerville Middle School participated.
First grade participants: Jaylee Cleveland, Sawyer Lutz, Brooklyn Hamby, Andrew Dilbeck, Treyvon Groce, Georgia Foster, Riley Cochran, Braydon Barbee, and Zadin Long.
1st place: Georgia Foster
2nd place: Sawyer Lutz
3rd place: Andrew Dilbeck
2nd grade participants: Reese Willingham, Mercy Braley, Collin Tucker, Damien Duncan, Kylor Kellett, Braylin Wooten, Charlie Howard, Keyonna Dozier, Audrey Flood, Peyton Rast, and Yulmi Vasquez-Perez.
1st place: Kylor Kellett
2nd place: Damien Duncan
3rd place: Peyton Rast
3rd grade participants: Ava Howard, Carter Bachelor, Braxxton Lyons, Christian McWhorter, Rylan Green, Lydon Shaver, Chloe Daniel, Memphys Anthony, Luis Rosales, and Ian Black.
1st place: Ava Howard
2nd place: Christian McWhorter
3rd place: Rylan Green
4th-8th grade participants: Ben Swords, Jace Goodson, Braden Dillard, Caiden Carter, Tobin Wooden, Caden Ware, Isabell Koonce, Sky Burrage, Miranda Dodd, Ta'Nija Perry, and Brenna Collins
1st place: Ben Swords
2nd place: Miranda Dodd
3rd place: Jace Goodson & Ta'Nija Perry (tie)
Menlo student, Ben Swords, will compete in the Region Spelling Bee on Saturday, February 23 at 10:00 a.m. at Georgia Highlands College in Rome.