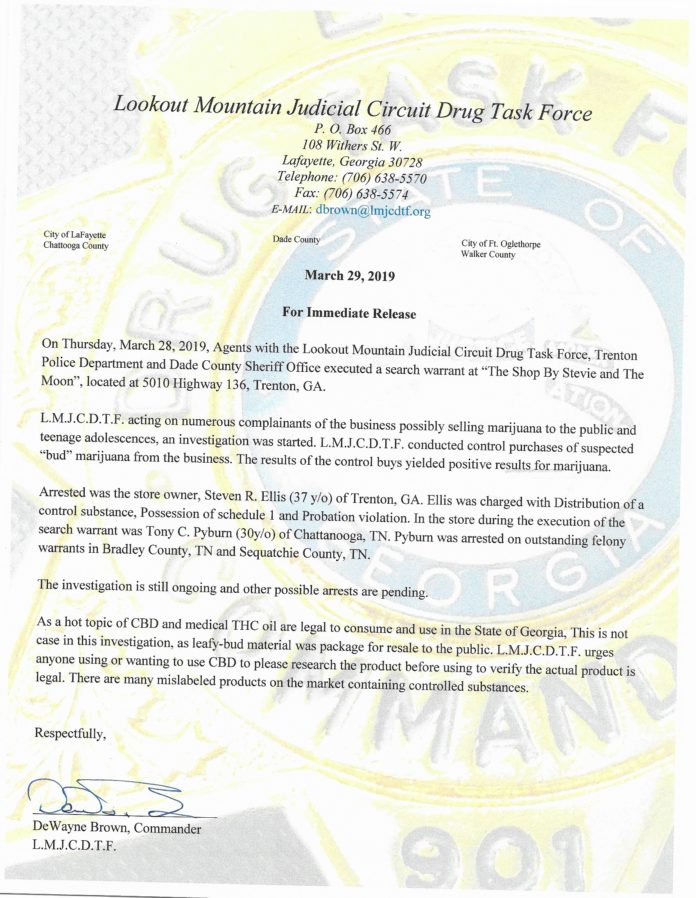 Lookout Mountain Judicial Circuit Drug Task Force Commander DeWayne Brown is warning the public about CBD products that are available for sale in Georgia, saying some of the products may not be legal to possess, "there are many mislabeled products on the market containing controlled substances."
On Thursday March 28, agents with the Drug Task Force, Trenton Police Department and the Dade County Sheriff's Office executed a search warrant at "The Shop by Stevie and The Moon", located at 5010 Highway 136 in Trenton, GA.
Commander Brown said that agents conducted "controlled purchases of suspected "bud" marijuana from the business.  The results of the control buys yielded positive results for marijuana."
Arrested was the store owner, thirty-seven-year-old Steven R. Ellis of Trenton and thirty-year-old Tony C. Pyburn of Chattanooga were arrested during an execution of a search warrant at the store.  Pyburn was charged with an outstanding felony warrant and Ellis was charged with distribution of a controlled substance, possession of Schedule 1 and probation violation.   Commander Brown said that the investigation into the store and its products is still ongoing and other possible arrests are pending.
Commander Brown says concerning the a hot topic: "CBD and THC oil are legal to consume and use in the State of Georgia; this is not the case in this investigation, as leafy bud material was packaged for resale to the public.  The Lookout Mountain Judicial Circuit Drug Task Force urges anyone wanting to use CBD to please research the product before using to verify the actual product is legal.  There are many mislabeled products on the market containing controlled substances."