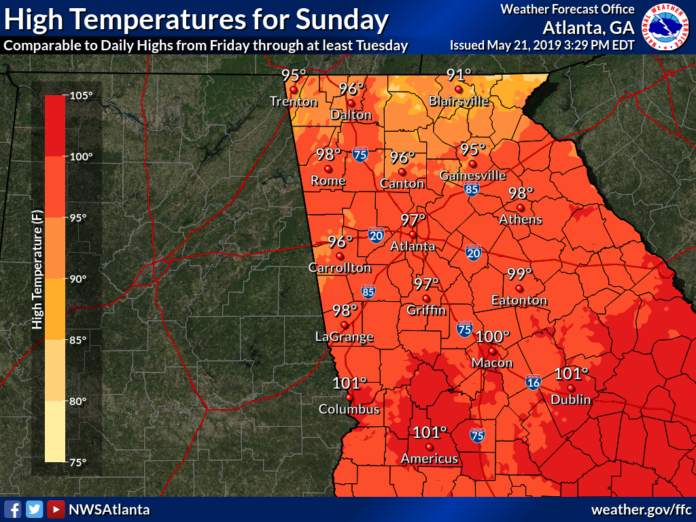 An unseasonably strong upper-level ridge is set to settle in over the Southeastern U.S. by tomorrow, bringing record high temperatures to Georgia later this week and through the weekend.
Several locations are expected to reach or break all-time record High temperatures for the month of May
.
Further Details:
An upper-level high-pressure system will begin building over the area tomorrow that is expected to be unseasonably strong. Our model analysis is predicting this ridge to be the strongest we've seen over the last 70 years (which is the period of record for upper-air measurements in this area) this early into the summer season.
Temperatures are currently about 10 degrees above normal, by Friday through early next week we're expecting High and Low temperatures to be ~10-15 degrees above normal. Daily high temperatures will be in the upper 90s for most of the area and will reach 100+ in southern portions of the forecast area for several days in a row. It's unclear exactly when this pattern will break but slight relief may come by late next week.
Outside some chances for showers in NE GA Wed and Thursday, no precipitation is expected at this time through this period. Relative Humidities are expected to remain low, which will act to worsen areas of Abnormally Dry (D0) conditions for southern and eastern GA. We could see an expansion of Moderate Drought (D1; which at this point is extremely sparse) over the next couple of weeks, and Fire Danger Statements are likely for areas of Central Georgia.
The All-Time Record High Temperatures for the month of May at our 4 climate locations are as follows

Atlanta: 97 degrees with forecast highs to tie this record on Sun, Mon, & Tue.
Athens: 100 degrees with forecast highs to be just shy of this record with 98 degrees expected on Sun, Mon, & Tue.
Macon: 99 degrees with highs expected to break this record with 100 degrees forecasted Sun, Mon & Tue. If this occurs it would be the first time breaking triple digits in the month of May and the earliest time of year of hitting 100+ on record.
Columbus: 100 degrees with highs expected to break this record with 101 forecasted on Sunday.