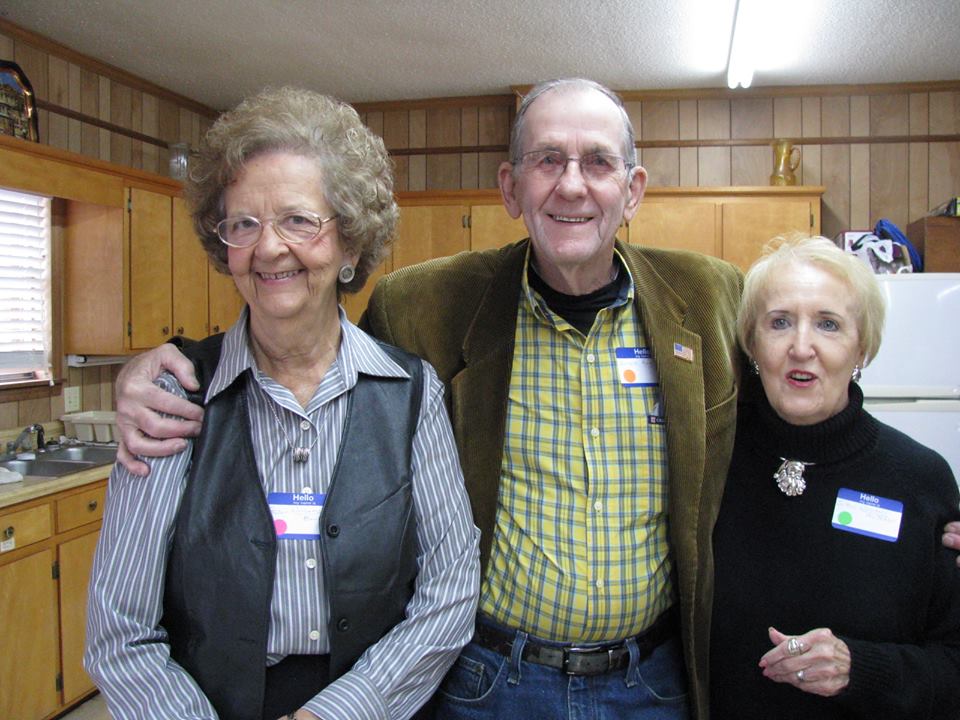 The Fellowship Hall of the First Baptist Church, Lyerly, furnished the setting for a Lyerly School gathering and far-reaching reunion,when graduates, students, teachers, administrators, and interested patrons assembled on Saturday, December 14, 2018,  for a day of fellowship, food and fun. School affiliates of all years and several spanning generations began gathering around 9:30AM to renew old friendships and exchange memories from the past.  Coming from all directions in the State of Georgia, as well as from several other states, guests arrived, and within a short time, the periods past in many peoples' lives soon were dissolved into a mixture, and soon, slightly over a hundred people found themselves bound once again in a unity that has stood firm for several decades.  Teachers, administrators, graduates, short-term students, and interested patrons of the Lyerly School System spanned more than 8 decades.
Before lunch was served, the group's attention was called, a welcome was given, and the response from the crowd, which had been sought for weeks, along with splendid cooperation was mentioned, all which had been necessary and appreciated by the committee, which had made the event possible. Hubert Wheeling read a list and recognized families of approximately 25 people who had passed away since the last gathering. Steve Peppers, a Lyerly Graduate,former Chattooga County teacher and coach, and an ordained minister offered Grace for the noon meal.
Administrators and teachers at Lyerly,  present for the occasion included James H. Spence, Lyerly teacher, and later Chattooga County School Superintendent; Mr. and Mrs. Branson Gayler, and Mrs. Hixey Jones Brewer,teachers. A special surprise of the day included the presence of William (Bill) Kinzy and Mrs.Kinzy, Menlo.  Former School Superintendent James Spence hired Mr. Kinzy,for his first administrative job, which took place in Chattooga County in the late 1960's, when he was named principal of Chattooga High School. This position and role, along with him later being selected as Superintendent of Trion City Schools would span Mr. Kinzy's administrative duties in education over a period of four decades.
By mid-afternoon, guests began to scatter; some friendships made, many renewed, scores of experiences reviewed, and laughter, along with a few tears had come forth, and the crowd headed home. It was a group sentiment, and many times openly expressed during the day they not as much time should elapse in the future, as had been in  the past before the group should meet again.  The 2018 Reunion Committee, on behalf of all the guests, would  like to express to the Pastor, Deacons, and membership of the Lyerly First Baptist Church for the use of the Fellowship Hall for the occasion.  The conveniences, as well as the physical and structural accommodations of the faciluty, made it possible for several to attend with special needs, that would have otherwise been impossible.  To all concerned, heartfelt gratitude is conveyed.
Contributing author: Gwen Bentley