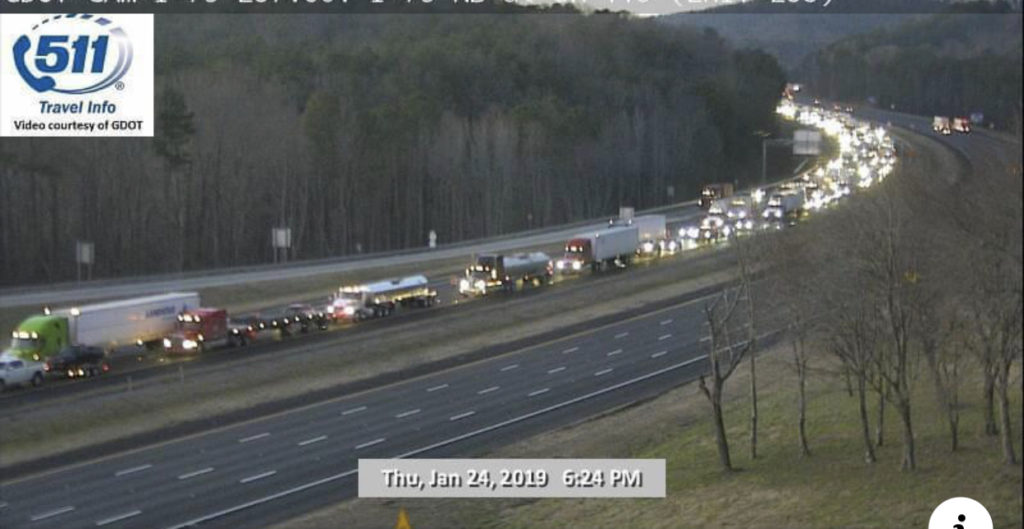 Springing into Action and working non-stop:
Georgia DOT is Working through the Night and Weekend to Complete the Emergency Repair on the Approach to Bridge on I-75 South in Bartow County
Georgia DOT has been working along with its contractor on repairing the approach to the bridge on I-75 over Allatoona Dam Road, and will continue to work through the night and the weekend, in order to complete the repair and return the two closed southbound lanes back to the traveling public as quickly as possible.
"We are making every effort to complete the repair as soon as possible. We will be using fast setting concrete mix and getting our steel manufacturer to work through the night in order to deliver the required reinforcement steel tomorrow. These are just a few examples," said Grant Waldrop, district engineer at the GDOT office in Cartersville
Damage to a concrete slab at the approach of the bridge had forced  the closure of two lanes on I-75 Southbound, which left only one lane open. Georgia DOT immediately put message boards and other signs up to help motorists navigate around  the closed lanes and avoid congestion and delays at that location.  Motorists have been advised to take Exit 288/SR 113 in Cartersville to US 41 south and get back to the interstate via Red Top Mountain.
Know before you go.  For real-time information about statewide road conditions, know before you go. Before getting into your  Know car – call 511 or visit 511ga.org, where you can access statewide, route-specific information on crashes, road work, traffic and weather. Callers can transfer to operators to report incidents or request assistance on interstate or state routes across Georgia. 
Photo: Northwest Georgia Scanner