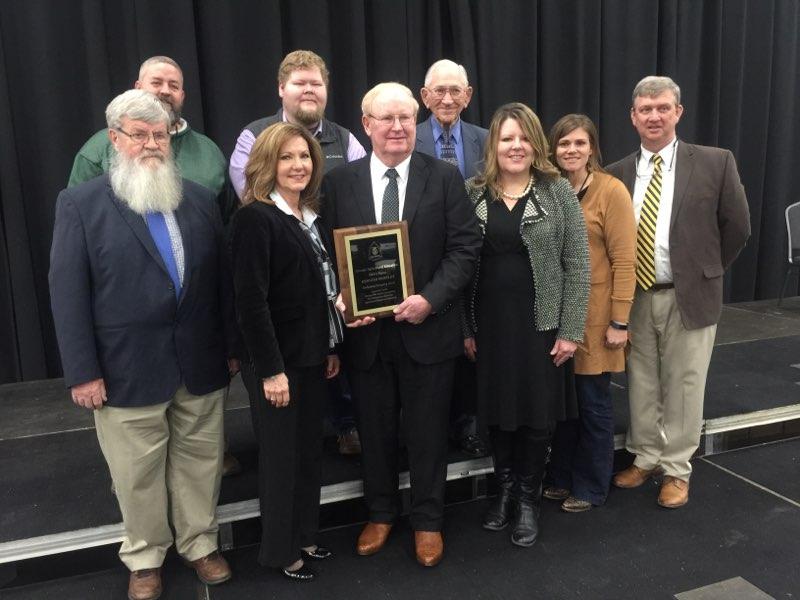 Former Chattooga High School Vocational Director Kenneth Moseley was recently named to the Agriculture Education Hall of Fame. 
In 1977, Moseley began building, what would become, one of the most active Chapters in the state of Georgia.  Over the 27 years that he was Advisor for the Chattooga County Young Farmers, he guided his group to achieve top awards including the District Chapter Award, State Chapter Award, District Farm Family Awards, Farm Management Contests, and State Spokesman for Agriculture Winner.  He had seven members to serve as State Officers.  Moseley wrote articles for the Georgia Young Farmers Magazine numerous times and was featured in the TeacherSpotlight. He served as State Parliamentarian in 2013. He has attended 16 National Young Farmer Institutes over the nation.
​For two years, Moseley served as GVATA District Director. During his years in the Chattooga County School System, he served 3 years as Vocational Director. In 2000, Moseley was named the GVA Teacher of the Year in Agriculture for the State of GA.  In 2003 he received the Honorary State FFA Degree and Chattooga FFA Chapter Special Recognition. Education was the most important part of the program for Mr. Moseley. His Young Farmer classes and programs would have the most up-to-date information possible to afford his members the ability to make the best choices for their farming operations. The same held true in his classrooms. Many of his students have pursued careers in various agriculture fields. Twenty-four students received the Georgia FFA Degree and 4 received the American FFA Degree.
​Locally, Moseley served on the Chattooga County Chamber of Commerce Agriculture Committee for 23 years and completed the Leadership Chattooga Training Program. He has served on the Cherokee County Alabama Cattlemen's Association Board of Directors and was President from 2012-2014. In 2014, Moseley was named Cherokee County Alabama Cattlemen's Association Cattleman of the Year.  He was elected to the Cherokee Electric Co-op Board of Directors in 2008 and still serves to date.
​Moseley's knowledge and influence is still felt today.  One former student remarked that, "Not one day goes by that I don't use a skill that Mr. Moseley taught me.  He really influenced my life."​
​Moseley retired in 2003 but continued to work part time until 2007. After retirement, he enlarged his cattle production and is still farming to date. He and his wife Gloria have 3 children, Brian, Tiffany, and Emily and 5 grandchildren, Brody, Kaylan, Libby, LeeAnna, and Daniel. His picture and Accomplishments have been added to the Hall of Fame at the John Wilkinson building at the FFA-FCCLA Center in Covington, GA.
Kenneth Moseley was born in Trion, Ga. and raised on his family's farm which straddles the GA/AL state line (Gaylesville, AL and Lyerly, GA.) where he still resides today. He received his B.S. Degree from Auburn University in Agriculture Education in 1974 and his M.S. Degree from Auburn in 1975. Later he earned his Educational Specialist Degree from Alabama A&M University.  In 1974 he began his professional Agriculture Education teaching career at Alma Hinson Jr. High in Attalla, AL, then moved to Sand Rock High School in Sand Rock, AL where he taught all levels of Agriculture Education and was the Advisor for a very active FFA Chapter.  It was during his tenure there that he was offered the opportunity to organize a new Georgia Young Farmer Chapter for Chattooga County, Summerville, GA.