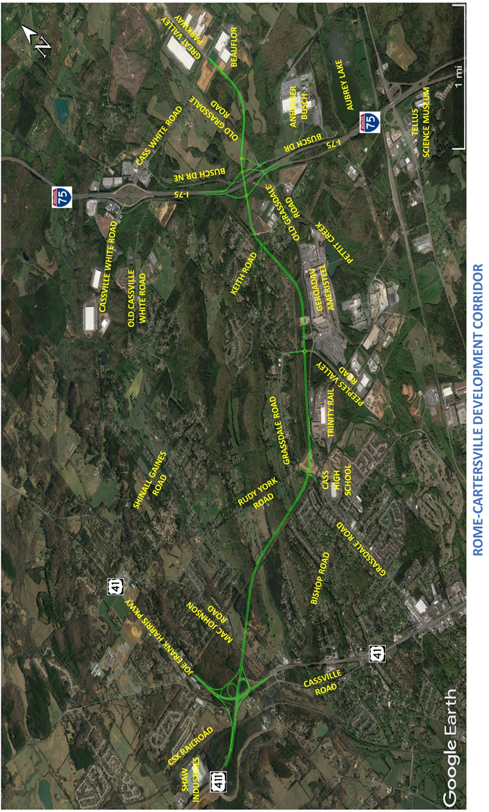 A public information open house to discuss the proposed project to provide a new connection between US 411 and I-75 in Bartow County is scheduled for Tuesday, February 26, 2019 from 5 until 7 p.m. The meeting will be held at Faith United Methodist Church, located at 501 Grassdale Road in the city of Cartersville, Georgia
Bartow and Floyd County's residents interested in learning more about the proposed project are encouraged to attend the meeting and express their thoughts and preferences.
"We would like to hear the viewpoints and preferences of all area residents," says Grant Waldrop, district engineer at the Georgia DOT office in Cartersville.
The proposed plans call for constructing a new Rome-Cartersville Development Corridor (RCDC) to connect US 411 and I-75, providing improved mobility for commuters, residents, and freight movement throughout Floyd and Bartow Counties. The RCDC is intended to relieve congestion along the existing US 411/SR 20 to I-75 corridor; support economic development by enhance access to existing and future development; improve truck route by accommodating growing freight traffic and relieve existing truck congestion on other roadways; and provide better local access byincreasing mobility and connectivity in the corridor and surrounding areas.
"The Georgia DOT strongly believes that since the RCDC proposed project is intended to serve the people of Bartow and Floyd counties, the ideas and preferences of these people are important and can make a difference in our planning process," Waldrop explains.  "This meeting will provide the public with an opportunity to review the proposed project, ask questions, and express their preferences."
The Open House will be informal and the public is invited to attend anytime between 5 and 7 p.m.  The meeting site is accessible to persons with disabilities.  Accommodations for people with disabilities can be arranged with advance notice by calling Joseph Ciavarro District Planning & Programming Engineer at 678-721-5164..
Written statements will be accepted concerning this project until Tuesday, March 12, 2019. Written statements may be submitted to:
Mr. Eric Duff, State Environmental Administrator
Georgia Department of Transportation
Office of Environmental Services
600 West Peachtree Street, NW – 16th Floor
Atlanta, Georgia 30308