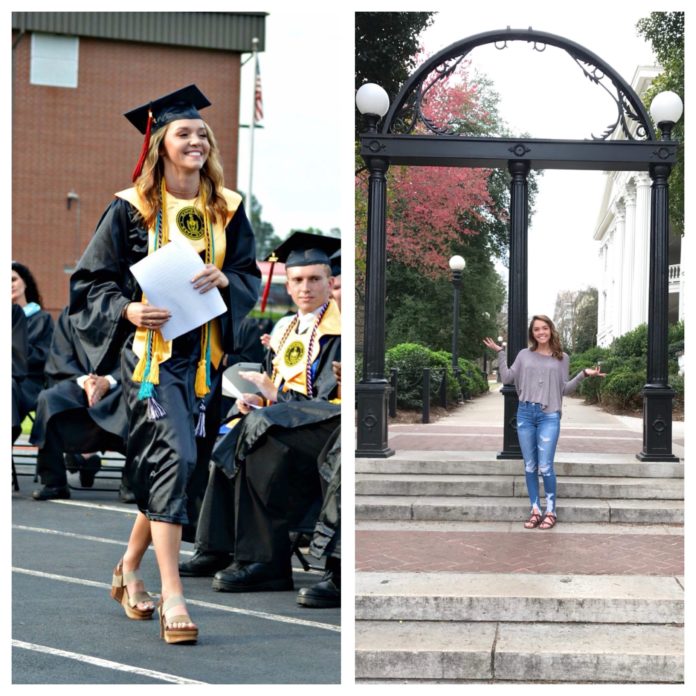 AllOnGeorgia reached out to recent graduates, first time voters and current students of Chattooga High School to find out their opinion on the 4-day school schedule and will be publishing the responses in a series.
Abbey Tudor, the 2017 Valedictorian took the time out of her busy schedule at the University of Georgia to answer some questions about the 4-day school week.
AOG: – How did CHS prepare you for college?
Tudor: – CHS prepared me for college by not only providing me with a supportive and loving community, but by providing me with the tools I needed to succeed, regardless of what that cost may be. Chattooga High School is a school that has continuously and consistently grown over the years, even since I graduated just two years ago.
When I first got to UGA, many people asked me what high school I went to. The common response when I told them was, "Where is THAT?" Chattooga County is tiny. It's on the map, but that does not change the fact that this place is incredibly underestimated and unaccounted for. A public school like Chattooga is not expected to produce what the metro Atlanta schools produce, or what the private schools of South Georgia produce. But the fact of the matter is that it does.
Chattooga High School has become a school where I not only felt safe, but I felt smart. I felt like I had the teachers, the clubs, and the programs to back me in any case. I felt challenged in many of the upper level classes, such as Dual Enrollment and AP classes, and I felt supported even when I did not quite get the score I wanted on a standardized test. Now that I am in college, I have that stellar background to look upon.
AOG: What is your college schedule like?
Tudor: My college schedule is insane. I go to classes Monday through Friday; I take an online class; I go to weekly sorority meetings for Alpha Chi Omega; I attend weekly Relay for Life committee meetings; I work as a Hoopgirl for the men's basketball team; I have an unpaid internship with Event Planning in Athletics; I am a member of Shop With A Bulldawg.
AOG: What is your major and GPA?
Tudor: I am currently on the path of double majoring; my overall GPA right now is a 3.62. Chattooga High School prepared me for this. The 4-day school week prepared me for this.
AOG: What grade were you in when the 4 day schedule started?
Tudor: I remember going into my 6th grade year and hearing that we would no longer attend school on Mondays. I was so excited, and I could not wait to have that extra day off. While I was in middle school when the 4-day week began, I do recall it not really affecting me until I was in high school.
That extra day off meant I could spend more time studying, I could attend tutoring when needed (and yes I attended quite a few times, especially before EOCs), and it gave me more practice time for sports which were also a huge part of my personal life and my school life. Adjusting to the 4-day week could not have been easier. The teachers employed by this county made it painless, and the extra hour added onto Tuesday-Friday school days really did not even feel like an hour but definitely made up for the lost day.
However, I don't think of the loss in a day as a loss at all. I think of it as a gain, no matter what level you are at in schooling. Now that I am in college, I do not go to school for eight hours a day. I go for about 3-4, if that. People can say what they want about the 4-day week and how it couldn't possibly prepare anyone for life after school, but they are wrong. If anything, I was even more prepared for college! Also under the 4-day week regimen, I recall making a few perfect scores on my CRCTs over the years, and I know for a fact that a lot of other students did as well. The 4-day week has proved to be nothing short of stellar, and I truly believe that it should be kept in the system for as long as possible.
I am a product of the 4-day school week, and I have never felt more prepared for college. I support the 4-day week, and I support the incumbents that are in office right now.
Abbey Tudor