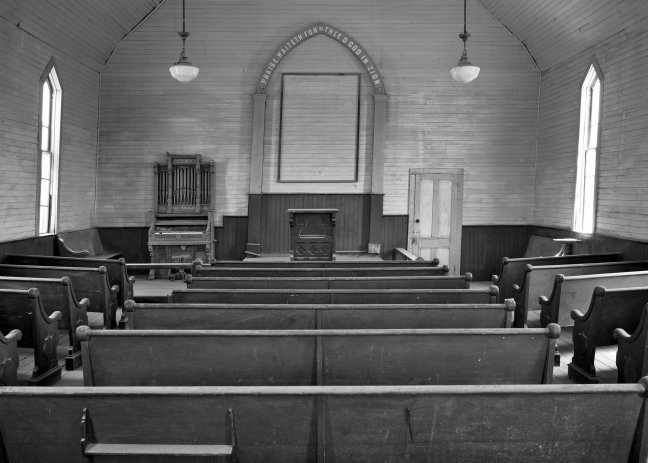 ​The following article is an opinion piece and reflects the views of only the author and not those of AllOnGeorgia
When searching for a church, many people are looking for a worship experience that moves them. They want to feel stirred in their heart and fed by the service. Churches have met the desire for 'feeling' by becoming excellent artificers of the worship experience. In the past a sanctuary would fabricate the worship feeling by its architecture, stained glass, and ornate appeal. These days little difference between an auditorium and a sanctuary exists. I often wonder if our recent commitment to architectural minimalism (meeting in a warehouse, preaching from stools, etc.) requires we conjure feelings of the sacred in new ways, relying on theatrical tricks rather than doctrinal understanding; deep drum beats make one feel the presence of the Holy Spirit, mood lighting helps to set the 'tone' for worship, and a good praise band elicits our emotions. The problem of creating a worship experience isn't unique to the 'contemporary' style. The 'old-time religion' also has its tricks of the trade. Hymn books utilize the power of sentimentality to conjure forth the emotions of the past. Hymn books, pulpits, organs, stained glass, and pews have often been mistaken for true spirituality.
In reality, a minimal difference between the magic of Broadwayand the feeling of worship in our churches exists. Through lighting, stage dressing, sound, and special effects the theatre generates emotion in its crowds; yet, we would not call these emotional experiences worship. Why then do we crave worship experiences, which can be fabricated by judicious uses religious artifacts and theatrical tricks? The answer is simple. Our definition of worship is wrong.
Redefining Worship
By defining worship as a type of music or a time frame in a service, churches do discredit to the idea of worship. Worship does not begin with personal preferences on styles of music. Worship is distinctly the opposite of personal preference. If left to our own preference, no one would worship God (Romans 3:11). If God had not come to us by sending his Son, we could not worship God. Worship is the soul's recognition that without the love of God, we sinful creatures would be destroyed by the consequences of our own sin.
Worship does not require us to even speak. "The Lord is in his holy temple; let all the earth keep silence before him" Habakkuk 2:20. Resting secure in the awe of the Lord's providence over creation is worship. Recognition in the soul of God's lordship is the beginning of worship. Worship doesn't start with lights, hymn books, or instruments; worship begins in the heart. Fake worship begins with created things and personal preferences; real worship's subject is always the God of creation.
Consider Elijah and Job. Elijah heard the still small voice of the Lord; even the whispers of God caused him to cover his face (1 Kings 19:11–12). Job likewise heard the voice of the Lord and trembled. Neither of these men needed to reply or say anything to worship God. The fear of the Lord was the beginning of their worship.
The fear of the Lord is absent from many of our worship experiences; any manmade object, which is used to make one feel God's presence, cannot put the fear of God into a person. Hymn books are not living and active. Pulpits are only symbolic; they don't magnify the Word of God in our hearts. While worship begins with a recognition for the need of God, it flourishes by the revelation of the Lord— the Bible. Preaching the Word of God correctly is an act of worship. Worship is not limited to a song set. Our goal in worship is not an emotional song, but to listen to the truth concerning God from his own revelation. Our response back to God concerning His revealed truth is worship.
Therefore, we define worship according to Jesus's definition. Jesus made the claim that all worship must include spirit and truth (John 4:24). Worship requires the spirit because God is spirit. We must be moved to a recognition of the superiority and holiness of the Lord. Worship requires the truth, because God is true: a real living and active being. Therefore, worship in the spirit cannot be defined by a string of guttural ooo's and ah's. Doowop worship may fabricate emotions, but it says precious little concerning the glory of God; far better to say nothing than to jabber like a fool (Proverbs 17:18). Worship in truth requires an acceptance of who God is and a denial of subscribing something false to God; far better to say nothing than to speak falsely concerning God (2 Tim 4:3–4). Worship does not require anything more than truth concerning God and the soul's amen to that truth.  
How to tell if your faking worship.
My main point is this: lights make impressions on our eyes, drums and organs make impressions on our ears, but worship alone makes impressions on our soul. Worship does not begin and end with set times, nor with some sensual impressions. If our Sunday service ends and our lives remain unchanged, then we have faked our way through worship. If week after week worship is emotional and 'life-altering,' yet none of the buds of worship develop into real spiritual fruit, that's fabricated worship. If the ultimate concern of worship is beginning on time and ending at lunch, that worship is fake. Fake worship is cheap; it requires precious little time and demands little more than a feeling. Real worship costs us our lives— recognizing we are sinners in need of God, God sent his Son to meet our deepest needs, and we respond to God by walking with Him whom we call Lord.
Contributing author:
Sean Wegener
Senior Pastor
Summerville First Baptist Church