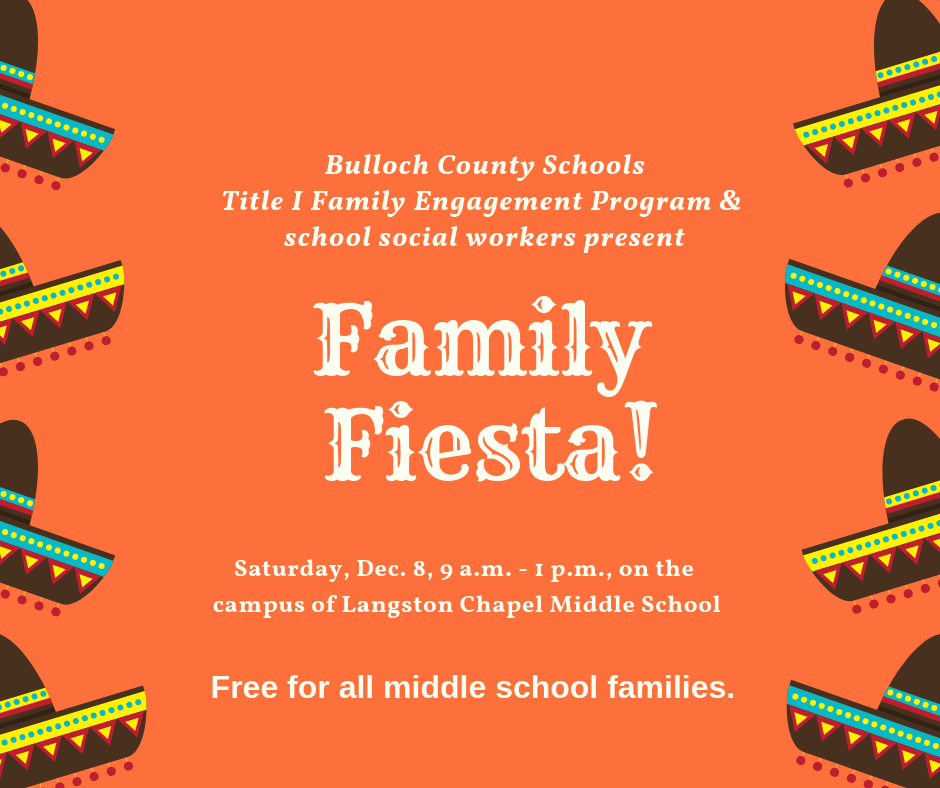 Free event with parent workshops, community resources expo, activities for kids, & entertainment

Bulloch County Schools' Title I Family Engagement Program and the district's school social workers are hosting a Family Fiesta for all families in Bulloch County who have children in middle school. The free event is Saturday, Dec. 8, from 9 a.m. – 1 p.m., on the campus of Langston Chapel Middle School, located at 156 Langston Chapel Road in Statesboro.  Families are encouraged to attend to learn, fellowship with other families, discover community resources, and enjoy fun activities and entertainment. Free childcare and a free lunch will be provided.  Please register online via http://bit.ly/bullochfamilyfiesta or complete a paper registration form from your middle school.
The event will offer six different workshop as well as table talks that will help answer parent questions.  There will be two different workshops offered during each workshop time slot, and parents may choose up to three workshops to attend.  The free workshops are designed to provide information, allow time for questions to be answered and support your role as a parent or guardian.
Schedule of Events
8:45 – 9:15 a.m. Check in
9:15 – 9:30 a.m. Welcome by Dr. Eric Carlyle, Langston Chapel  Middle School Principal
9:40 – 10:10 a.m. Workshop I
10:20 – 10:50 a.m. Workshop II
11:00 – 11:30 a.m. Workshop III
11:30 – 12:30 p.m. Lunch, Community Resources, & Table Talks
12:30 – 1:15 p.m. Entertainment and Closing Remarks
Free Childcare & Activities for Children
This is an event for the whole family. When you register, please indicate the number of children who will require childcare and their ages. Activities include a Bike Rodeo featuring the OCMA Dream Team from Dublin.  Children can bring their own bike and helmet or borrow one of ours.
Workshops (choose up to three workshops to attend):
• Digital Divide – How to help your child without access to the Internet with the technology movement in schools
• Math is Cool in Middle School – How to make math engaging for middle school students.
• Falling in Love with the Written Word – How literature impacts the big picture of life.
• Can you imagine? – Set goals and see them come to life through a creative activity.
• Release, Relax – How to incorporate dance and movement into stress release.
• Who is in the Mirror? – The importance of self-esteem and having a positive attitude and outlook.
Community Resources Fair
Throughout the event, parents and guardians may gather useful information from representatives of these community resources.
• Pineland Behavioral Health
• Easter Seals
• School social workers
• Ogeechee Technical College
• Well Care
• Care Partners
• Bulloch County Health Department
• Langston Chapel Middle School Parent Teacher Organization, Southeast Bulloch Middle School PTO, Portal Middle High School Boosters
• Bulloch County Schools Family Engagement Specialists
• United Way
• Reading Carnival
• Parents Have Rights Too
• Babies Can't Wait
• William's Warriors
• IMPACT Clubhouse
• SHINE Clubhouse