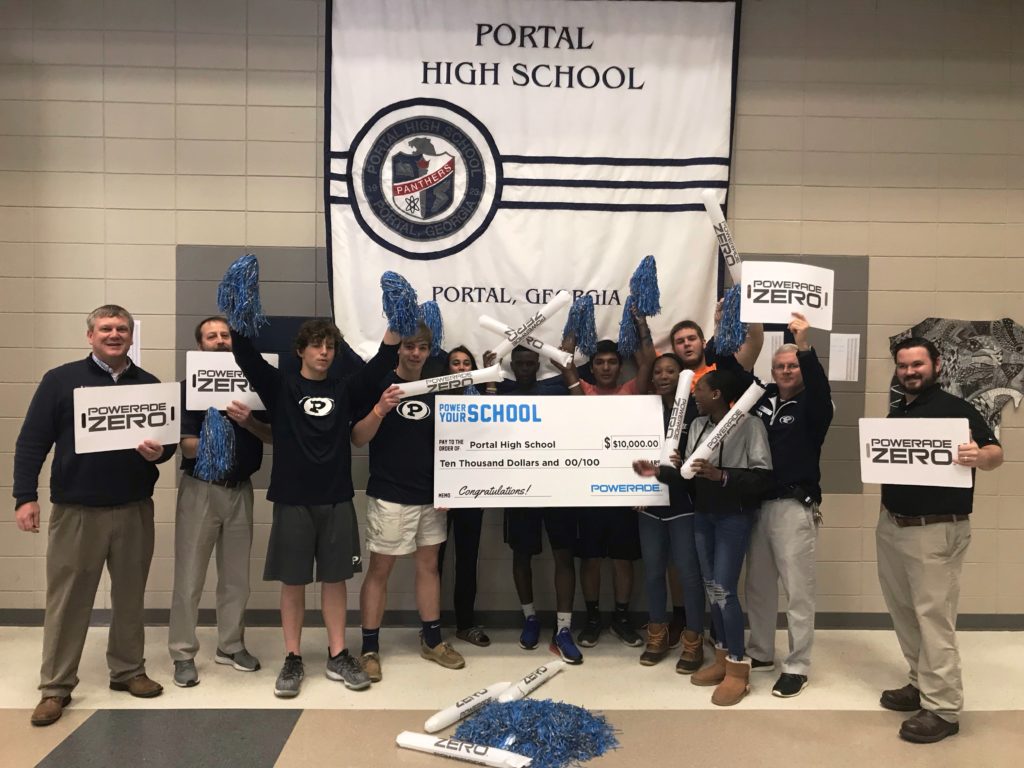 Portal Middle High School and Bulloch Academy are two of only 50 national winners of the Coca Cola Company's POWERADE Powers Up High School Athletic Programs. PMHS and BA will each receive $10,000 for their school's athletic programs.

"We are very excited to have two national winners from our community," said Phillip Story, manager of the Statesboro Coca-Cola Sales Center. Phillip Story and Patrick Griffin, the On Premise Area Manager for Coca-Cola Bottling Company United, presented the $10,000 check to PMHS administrators and athletes on Friday, Feb. 15, at the school.  BA's presentation is set for an alternate date.
This is the second time that one of Bulloch County Schools' athletic programs has been designated as a winner in the POWERADE contest.  In 2018, Statesboro High School was one of 200 national secondary prize winners and received $2,000 for its athletic programs.
The POWERADE contest asked student athletes and their supporters to submit videos and essays demonstrating their schools' athletic needs. Contest entries were judged based on school need, creativity, and quality of submission. This was a national contest open to all high schools across the country.  There were 50 grand prize winners winning $10,000 each and 200 secondary prize winners winning $2,000 each.
Coca-Cola Bottling Company United is an independently owned company out of Birmingham, Alabama, and is the third largest coke bottler in the U.S.   "This program is extremely important for POWERADE," said Julie Siwemuke, senior brand manager, POWERADE. "We want to use our platform to power teens and the things that are important to them. Last year was a fantastic start and this year is going to be better! We are in awe of high school athletes and through the Power Your School program, POWERADE iscommitted in helping them on their journeys."
Coca-Cola Bottling Company UNITED, founded in 1902 and headquartered in Birmingham, Alabama, is the second largest privately held Coca-Cola bottler in North America and the third largest bottler of Coca-Cola products in the United States.
Information from Bulloch Schools.