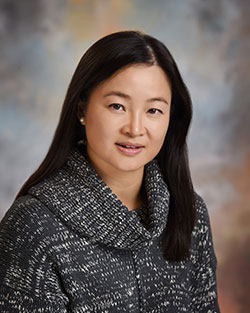 Gastroenterologist Dr. Loan Vu joined East Georgia Gastroenterology in November 2018, and over the past several months the entire staff, patients and community have enjoyed having her as their new physician.
Dr. Vu specializes in the diagnosis and treatment of conditions that affect the GI tract. This includes the esophagus, stomach, small intestine, large intestine (colon), and biliary system, including the liver, pancreas, gallbladder and bile ducts. For more than 8 years, Dr. Vu has treated a variety of diseases, including hepatitis, gastric reflux, irritable bowel syndrome and inflammatory bowel disease.
Dr. Vu received her medical degree from Kansas City University of Medicine & Biosciences in Kansas City, Missouri. She went on to do her residency at Plaza Hospital in Fort Worth, Texas, and completed her fellowship at Plaza Hospital and John Peter Smith Hospital in Fort Worth. Dr. Vu is board certified in internal medicine and gastroenterology.
Some of the procedures and services that Dr. Vu offer include: Esophagogastroduodenoscopy (EGDs), colonoscopy, Endoscopic Retrograde Cholangiopancreatography (ERCP), endoscopic ultrasound (EUS), capsule endoscopy, percutaneous feeding tube placement, enteroscopy, esophageal motility and Bravo pH study, hemorrhoid banding removal treatment, and radiofrequency ablation (RFA) of Barrett's esophagus and Hepatitis C treatment.
Dr. Vu is currently accepting new patients. East Georgia Gastroenterology is located at 1497 Fair Road, Suite 102, in Statesboro. For convenient online appointment scheduling, visit www.myeastgeorgiadoctors.com , or feel free to call (912) 486-1600. Medicare and most insurance plans are welcome.
East Georgia Regional Medical Center is owned in part by physicians.
This is a press release.