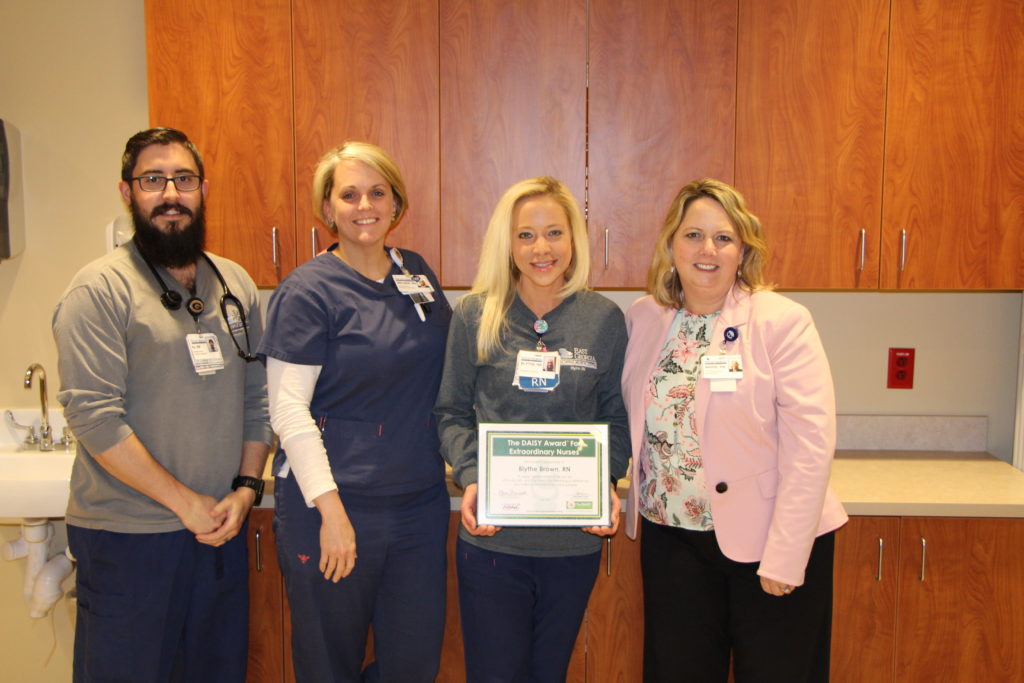 Blythe Brown, RN, nurse in the Emergency Department at East Georgia Regional Medical Center, was awarded the hospital's DAISY Award for Extraordinary Nurses. Brown has worked at East Georgia Regional Medical Center since 2016 and has been a nurse since 2009.

Brown's nomination was very touching, as it explained how compassionate she truly is. Here's an excerpt from the nomination:
"I would like to nominate Blythe for advocating for an elderly patient in the Emergency Department who was in an abusive home situation….Blythe volunteered to be the patient's witness and go to court with her so she would be able to go back to her own home and be safe. Her persistence in making sure this patient could return home safely is to be commended."
Nominations were reviewed by a committee of nurses at East Georgia Regional Medical Center. Brown was selected in recognition of the heroic, personal difference she makes in the lives of patients.
"I was touched to learn how Blythe went above and beyond the call of duty to help for a patient in our Emergency Department," said Marie Burdett, BSN, RN, Chief Nursing Officer at East Georgia Regional Hospital. "She is truly an extraordinary nurse and very deserving of this recognition."
The award is part of the DAISY Foundation's program to recognize the super-human efforts nurses perform every day. The DAISY Awards are given throughout the year at presentations given in front of the nurse's colleagues, physicians, patients, and visitors.
"Nurses are heroes every day," said Paul Theriot, Chief Executive Officer of East Georgia Regional Medical Center. "It's important that our nurses know their work is highly valued, and The DAISY Foundation provides a way for us to do that through this award program."
The not-for-profit DAISY Foundation is based in Glen Ellen, CA, and was established by family members in memory of J. Patrick Barnes. Patrick died at the age of 33 in late 1999 from complications of Idiopathic Thrombocytopenic Purpura (ITP), a little known but not uncommon auto-immune disease. The care Patrick and his family received from nurses while he was ill inspired this unique means of thanking nurses for making a profound difference in the lives of their patients and patient families.
"When Patrick was critically ill, our family experienced first-hand the remarkable skill and care nurses provide patients every day and night, said Bonnie Barnes, FAAN, President and Co-Founder of The DAISY Foundation. "Yet these unsung heroes are seldom recognized for the super-human work they do. The kind of work the nurses at EGRMC are called on to do every day epitomizes the purpose of The DAISY Award."
Each DAISY Award Honoree will receive a certificate commending her or him for being an Extraordinary Nurse. The certificate reads: "In deep appreciation of all you do, who you are, and the incredibly meaningful difference you make in the lives of so many people." The Honoree will also be given a beautiful and meaningful sculpture called A Healer's Touch, hand-carved by artists of the Shona Tribe in Africa.a