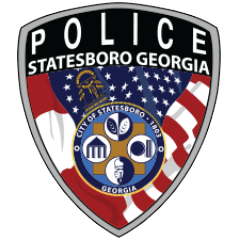 The Statesboro Police Department made 2 arrests on charges related to an incident of shots fired at a local bar. The agency sent out a press release Monday:
On 1/27/19 at 12:35 am, a group of officers of the Statesboro Police Department's Patrol Bureau were doing paperwork in a parking lot off Georgia Avenue when they heard what sounded like multiple shots fired in the 100 block of Lanier Drive. While responding to the area officers observed a male subject, carrying a firearm, run across Lanier Drive from the direction of The Hangout Bar and Grill and enter a vehicle in a Georgia Southern dorm parking lot. When the 3 subjects complied with commands to get out of the vehicle, officers observed the original male subject, later identified as Damien Barrett, throw the firearm into a wooded area in an attempt to dispose of it. The firearm was recovered and came back as stolen when officers ran the serial number. Further investigation revealed that Barrett did fire shots during the incident at The Hangout. Barrett was placed under arrest and transported to the Bulloch County Jail.
Simultaneously, officers stopped 4 subjects attempting to leave the scene in a vehicle. Further investigation revealed that one male subject, later identified as Ja'shaad Durrell Calhoun, had prescription drugs in his possession illegally and was carrying a firearm at the time. Calhoun was arrested on scene without incident.
Fortunately no one suffered gunshot injuries as a result of this incident. 
The responding officers in this incident did an excellent job of swiftly and safely taking control of the situation and identifying the suspect. Chief of Police Mike Broadhead says of their work, "Violent acts like this simply cannot be tolerated in a civil society. This casual disregard for the safety of other members of our community is disturbing. I am incredibly proud of our patrol officers who responded immediately, identified a suspect and took him into custody without injury or harm to officers or suspects. This is professional policing at its finest."
Suspect Damien Sharrod Barrett
29 years old
Male
Pooler, GA
 Charges
3 counts  Aggravated Assault – Gun
1 count  Theft by Receiving Stolen Property
Suspect Ja'shaad Durrell Calhoun 
22 years old
Male
Cobbtown, GA
 Charges
1 count  Possession of a Firearm During the Commission of a Felony
1 count  Possession of a Schedule II Drug
1 count Possession of MDMA
1 count Original Container Required for Prescription Drugs