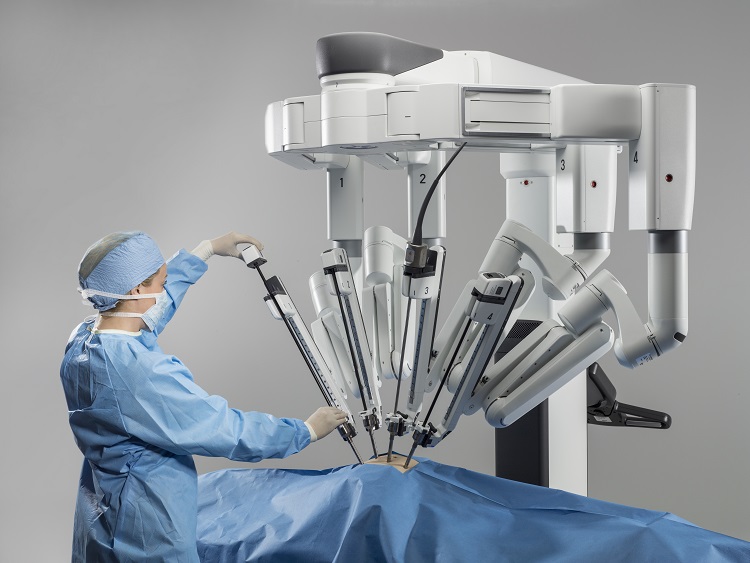 East Georgia Regional Medical Center is proud to announce the addition of a new technologically advanced surgical robot to its multi-disciplinary robotic-assisted surgery program. The new surgical robot can be used in a wide range of specialty services available at East Georgia Regional Medical Center. General, gynecological, and urological surgeries, which include hernia repairs and hysterectomies, are among the many procedures completed with this revolutionary technology.

"East Georgia Regional Medical Center is committed to providing exceptional patient care," shared Paul Theriot, Chief Executive Officer. "This is another way of fulfilling our commitment to Statesboro and Bulloch County, and in partnership with our physicians, to bring the most advanced care possible to our community."
Robotic surgery is a type of minimally invasive surgery during which surgeons use very small surgical instruments that fit into a patient's body through a series of tiny incisions. These instruments, that bend and rotate farther than a human wrist, are mounted on three robotic arms and a fourth arm holds a magnified 3D high-definition camera. Patients experience less pain, less scarring, shorter hospital stays, and quicker return to normal activities.
At the console, a surgeon uses hand and foot controls to manipulate the arms of the robot allowing the surgeon maximum range and precision of motion in performing an operation.
East Georgia Regional Medical Center began utilizing robotic-assisted surgery in 2010 and continues to expand the program empowering physicians to offer exceptional surgical care to their patients.