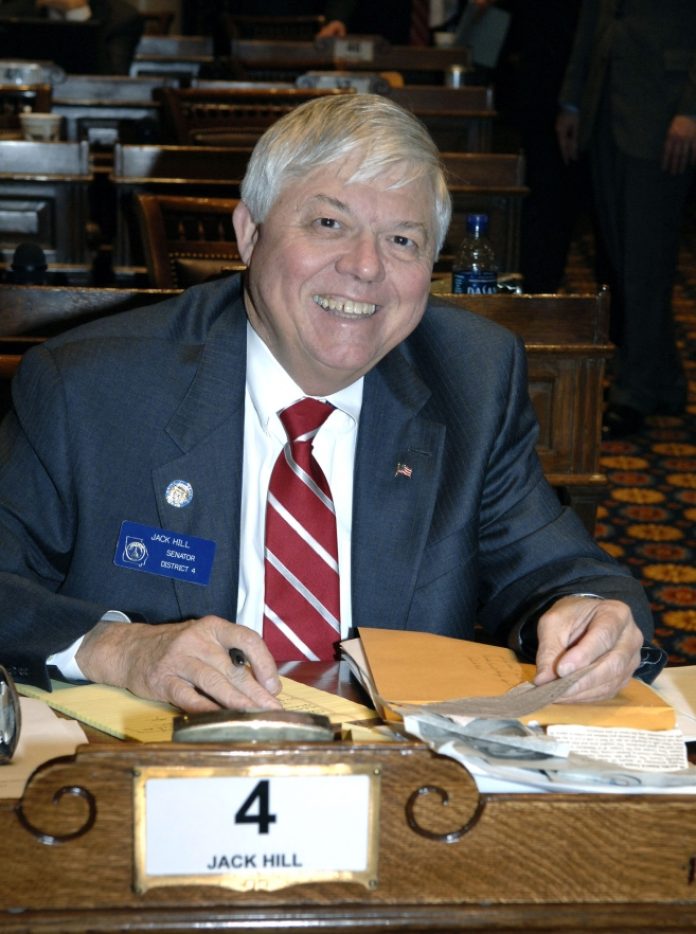 The Senate prepared to pass its version of the FY 19 General Budget and the final days of the 2018 Session wound down with adjournment set for Mar. 29. After both bodies pass their versions, a conference committee will work out differences. Last minute changes to the Amended FY 18 Budget included:
–$43.1 million for full repayment to counties and school boards for Forest Protection Grants for a total of $60.7 million to catch up on replacing the loss of ad valorem taxes from lands placed in this program.
–Added airport projects in Sylvania and Claxton to the Governor's proposal to extend runways on 13 regional airports totaling $25.9 million.
–$1.22 million to partially reimburse hospitals around the state for the amount of self-pay patients tied to the flu outbreak. Grady Hospital will receive $398,788 and 55 rural hospitals will receive $4000.00 each.
–$500,000 to provide grants to middle schools to provide instruction in coding for 7th and 8th grade students.
FINAL PASSAGE
–HB 309– Exempts the state defense force from liability while performing duties.
–HB 257– Simplifies Department of Community Affairs (DCA) paperwork procedures for local government by consolidating filing dates, so that annual registration and annual local government finance reports are due at the same time.
–HB 205– Creates an Oil and Gas Board within the Board of Natural Resources to assist in drilling regulation and permit issuance. Authorizes the Board of Natural Resources to regulate hydraulic fracturing and calls for mandatory disclosure of the chemicals used in hydraulic fracturing projects.
PASSED BY THE SENATE THIS WEEK
–HB 162– Permits the waiver of the administrative collection assistance fee (intended to recover the cost of actual debt collection) by the Administrative Office of the Courts. Following debt collection, on a quarterly basis, the Administrative Office of the Courts will transfer collected debt to the court to which debt was owed.
–HB 475– Requires written permission from the private property owner prior to placement of a donation receptacle on private property (if already placed, must receive written permission by 2018 year-end). Holds receptacle owner liable for upkeep of receptacle. Allows the property owner to demand receptacle removal at any time.
–HB 275– Requires that boats used for body or wake surfing be equipped with a wide angle mirror to monitor the safety of surfers. Prohibits boats with an outboard, stern drive, or inboard/outboard engine from creating wake for the purpose of body or wake surfing.
–HB 354– Reconstitutes the Georgia International and Maritime Trade Center Authority as a state, not a local, authority.
–HB 448– Exempts nonpublic law schools, accredited by the Bar Association and primarily located in Georgia, and proprietary institutions accredited by the Southern Association of Colleges from regulation by the Nonpublic Postsecondary Education Commission. Allows exempt nonpublic law schools' students to receive federal financial aid.
–HB 135– Allows former Department of Driver Services investigators and Department of Corrections K9 handlers, who have been members of the Employees' Retirement System of Georgia for a minimum of 10 years, to obtain creditable service towards retirement benefits for their prior service at the DDS and Department of Corrections.
PASSED OUT OF SENATE COMMITTEES
–HB 811– Helps the Department of Revenue (DOR) identify taxpayers not in compliance with sales and use taxes by allowing the DOR to share tax information with state-licensed data analytics businesses.
–HB 816– Subjects all prospective employees and certain employees and contractors of the Georgia Department of Revenue to fingerprinting and criminal record checks. Applies to those employees and contractors hired after January 1, 2019 who have not undergone a fingerprint and background check in the last 10 years.
–HB 664– Raises from $4,000 to $8,000 the ceiling for 529 plan tax deductions beginning January 1, 2018. These plans help parents and grandparents save for college tax free.